Mother's Day 2020 was a lonely affair for many due to the pandemic — a phone call, Zoom chat or outdoor, distanced visit. But with vaccines now available, your family may be excited about gathering safely to celebrate in person this year. Be sure to take the proper precautions with masking, distancing, and testing as advised by the CDC; guidelines may differ depending on your venue, group size and vaccinations status.
Mother's Day has traditionally been a time to celebrate moms and mom-figures with a special meal or a family outing. Restaurants are usually booked solid on this day, while flowers and jewelry are touted as the go-to gifts for mom. Instead of taking one of these traditional routes, make 2021 all about checking in and supporting the physical and mental health of the moms you love. After all, it's been over a year living with a global pandemic. Chances are that the moms you know are more stressed than ever taking on extra duties at home.
Stress can impact heart health, and according to the American Heart Association women need to take their health to heart. Among women, 90% have one or more risk factors for heart disease at some point in their lives. But the good news is 80% of cardiovascular diseases are preventable with regular checkups, exercise, healthy eating and reducing stress. With mom's heart in mind, show her some love with these healthy ideas.
1. Make mom a healthy meal.
Try cooking a meal for your mom-figures instead of going to a restaurant, where meals tend to be 500-1,000 extra calories or more per serving by the time you add drinks, appetizers and dessert. Instead of dining out, focus on making your mom's favorite healthy brunch, lunch or dinner homemade, with love. Consider these ideas and easy recipes to get younger kids involved in the kitchen. Or, go on a healthy family picnic to combine a fresh, delicious meal with a nice hike and a beautiful view. Is breakfast in bed a must for mom? Try these healthier pancake options. Search ThinkHealth for a wide variety of healthy recipe options to make mom a heart-healthy meal, from the heart.
2. Seize the day and get moving with mom.
By May, the weather in Michigan is usually begging everyone to spend some time outside. Take advantage and get active with a variety of spring ideas to get moving in the mitten state. If social distancing is still a concern for your mom, these outdoor activities are safe and made for having fun while 6 feet apart. Even just walking 20 minutes outdoors can benefit mom, and everyone in the family.
3. Help mom check health to-do's off her list.
This is especially appreciated if you have a mom, mother-in-law, stepmom, grandma or mom-figure who is elderly. Do they need help getting a COVID-19 vaccine appointment if they haven't yet? Is their annual physical scheduled? Is it time to talk about regular preventive screenings all women should have such as a mammogram? Does your mom need help setting up an Advance Care Plan? Does she have an incorrect medical bill she needs help with? It may not seem fun or exciting as far as gifts go, but moms do so much to care for others — they often neglect their own care. They'll appreciate the help and concern, even if it's just a simple reminder to make her own self-care a priority.
4. Check in on mom's mental health.
Speaking of self-care, mental health matters. According to the New York Times, American moms are not ok. The pandemic brought a bunch of added responsibility to already busy moms — whether stay-at-home, working or single. Many took on additional childcare and virtual learning responsibilities, the stress of job loss or just worrying about keeping their families healthy. Ask the moms in your life how their mental fitness is, truly, and if they admit they need help — be ready to share the many available resources offered by their health plan or other free options for help online, and statewide.
5. Take time to help mom with tech.
Help her take advantage of digital health resources if technology overwhelms her. Does she have her health insurance online member account set up or app downloaded to her phone? Has she tried virtual care as a safe, affordable and convenient option? What about prescription home delivery? Could she benefit from virtual mental health support through a tool Priority Health members have access to like myStrength? Does she have an upcoming procedure or new prescription? Check with her health plan to see if they offer an online cost planning tool like Priority Health's Cost Estimator to help her save money.
6. Give mom a gift to support her health goals.
Cut flowers won't last long, and they can be overpriced around Mother's Day. But gifts to support her health and wellness goals can keep benefiting mom all year long. Has she been walking or exercising more lately? How about a foam roller or new yoga mat for stretching — or a massage gift certificate to relieve sore muscles? Is she focusing on positive thinking – try a gratitude journal or a gift card for a new, uplifting book. Is eating healthier on her to-do list for summer? Gift mom a CSA membership or other produce delivery service for healthy ingredients while supporting local farms at the same time.
7. Go green for mom.
Speaking of healthy ingredients — it's easy and fun to go with the theme of green for mom this year. Instead of cut flowers, gift her a living plant or easy-to-care for succulent that will last the rest of the year with all of the many health benefits it brings. Does mom love to cook? Help her start an herb garden or easy container garden to grow her own produce.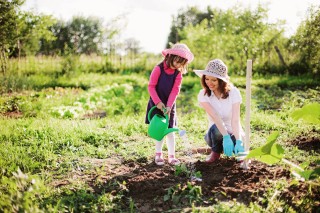 8. Tackle a decluttering project.

Did you move out and leave boxes of childhood memories in the garage? Have the moms in your life accumulated too much stuff and could use some help clearing up their space? These spring cleaning ideas can help mom (and you, too!) Our health coach Angie Chandler shares why organized environments impact your overall wellbeing.
9. Say yay for mom with yardwork.
May is the perfect time to start cleaning up from the long, cold winter and prepping gardens and yards for a success summer of growing. Help mom out and rake leaves, clean out the gutters, prep her gardens, do some early planting or even start a compost pile. As a bonus to you both, yardwork is great workout! Be sure to check the backyard and garage, too – does the grill need cleaning or could her car use a wash and vacuum? You'll be surprised how easy it is to make mom smile with a little help around the house.
10. Focus on your family — family history, that is.
It's important to know your family history for health reasons. This is an important thing to do for the health of the entire family – this Mother's Day, spend time looking into your family history with mom. The Centers for Disease Control and Prevention (CDC) recommends you collect health information about your:
parents
sisters and brothers, including half-siblings
children
grandparents
aunts and uncles
nieces and nephews
This information should include major medical conditions, age when they were diagnosed, causes of death and age at death (if relevant) and ethnic background. Keep these details updated regularly and always share what you've learned with your family members and your doctor. If you prefer digital records to paper, you can use the Surgeon General's helpful web-based tool My Family Health Portrait to keep track of the information. It lets you save, print and continue to update your information all in one place—and also includes details about your potential risks.
Remember that the most important thing moms want this year is likely a day off from their regular duties and a chance to spend some quality time with their children. The pandemic has increased loneliness and isolation for all, so take time this year to reach out to the moms in your life and check in on them — however you feel most safe and comfortable. And if you're a mom yourself, make time this Mother's Day for your own health and self-care. You deserve it!