You're not alone. Unfortunately medical billing errors happen.
According to a 2015 study by Consumers Union, nearly one in three Americans got a surprise medical bill for services not covered by their health insurance.
According to the American Medical Association, nearly 20 percent of EOBs have errors.
The good news is that by being an informed and engaged consumer, you can work with your insurance company to correct any errors and potentially save money in the long run.
Let's start with the Explanation of Benefits or EOB. It can be a confusing document to read, especially since it looks like a bill but it's not. It's just a summary of your services. The document includes dates, types of treatment received, information from the provider and most importantly, the cost to you and your health insurance provider. Your health insurance company sends you the document every time you receive treatment.
Even though your EOB is not a bill, it is still important to look it over because a bill will be forthcoming from the health provider for the amount you owe after the health insurance company has paid their portion. The insurance EOB tells you the total amount that was not covered by your insurance company and the total cost that you are required to pay. According to the American Medical Association, nearly 20 percent of EOBs have errors. It is important to catch errors on your EOB so that you don't end up paying more than you should.
The first step in arming yourself against errors is to ask for an itemized bill from the medical professional that performed the service. You'll use that to compare to your EOB. Below are eight common billing errors that show up on your EOB:
1. Keystroke Error
Do the procedure codes match up? You don't need to know what the codes mean, but do make sure they match between the itemized bill and EOB. Also check your group insurance plan number. One wrong digit in that number could indicate you have a plan with different coverage than your own, which means you could unknowingly be paying more for medical services than you need to be.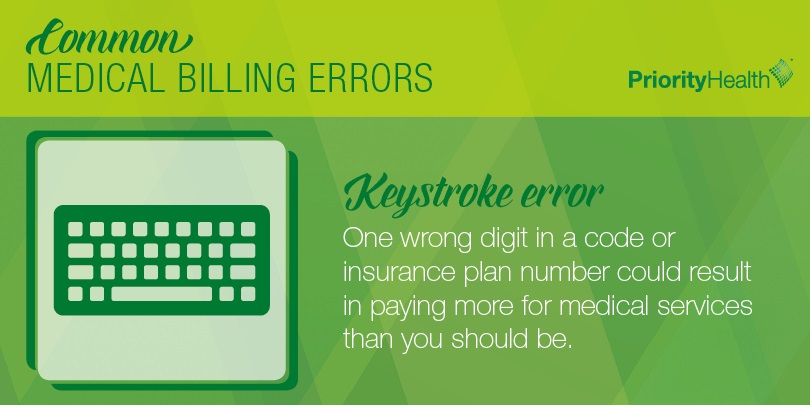 2. Duplicate Charges
Look to see that you were not charged for the same service, supplies or medications multiple times.
3. Operating Room Time
Make sure you're not being charged for more time than you actually used. Compare the charges with your anesthesiologist's records.
4. Canceled Work
Sometimes your physician may order a medical test, but then change their mind and then cancel it. Check to see you were charged for any procedures you did not receive.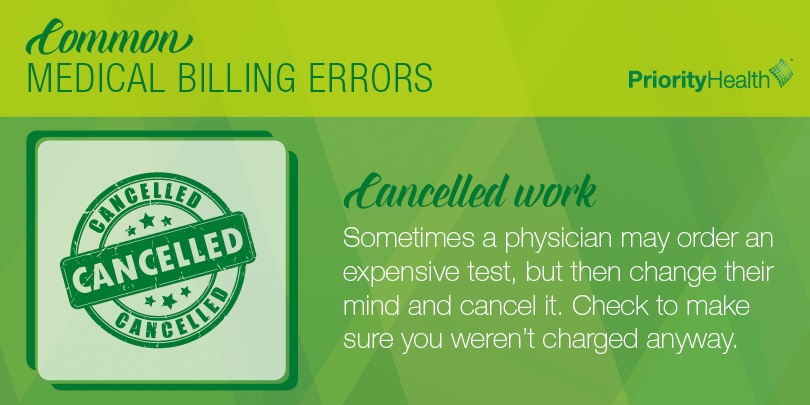 5. Phantom Procedures
Be sure you received every service, medication, procedure you were billed for.
6. Incorrect Room Charges
Double check to see what kind of room you were charged for during a hospital stay. Were you charged for a private room even though you were in a semi-private room?
7. Unexpected Physicians
Sometimes an additional physician or assistant works on your case and unfortunately, they might not be considered in-network, even if your primary doctor is. For example, your surgeon might be in-network but not your anesthesiologist. Make sure you ask about your care team before the service and then check your EOB for any incorrect charges or out-of-network fees.
8. Incorrect Dates
This might not seem like a big deal, but if you were admitted to the hospital, look at dates of admission and discharge. Were you charged for the discharge day? Most hospitals only charge for admission day, and not discharge day. Make sure you're not paying for both.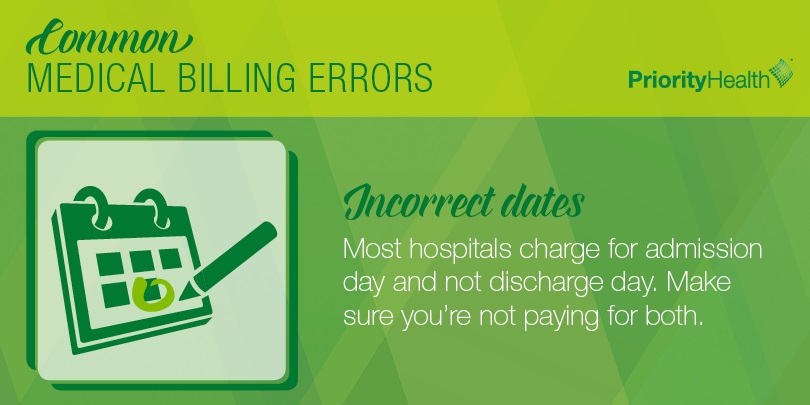 The best way to catch mistakes on your EOB is to research and understand your costs before you receive a health care service. With tools like Cost Estimators, you'll not only learn more about your procedure, but you can shop for the best prices available.
When it comes to all things health care, there are ways to take control. Part of that means being a conscious consumer and reviewing all EOBs and medical bills.