You wake up Saturday morning. The sun is beaming in through your window as you lie in bed and enjoy a moment of relaxation. Suddenly, you notice a sweet smell coming through the vents and intriguing your senses. You get out of bed and walk down to the kitchen to find your loved one flipping pancakes and piling them high on a plate. All you can think is, "they are calling my name."
Pancakes are a great breakfast dish due to the endless possibilities and variations of toppings. You can add blueberries, walnuts, cinnamon, strawberries and more. According to National Today, blueberry pancakes are the second most popular variation following the traditional buttermilk variety. Rather than adding ingredients inside, some people love a good old fashion plain pancake. You can't beat the taste of fluffy on the inside and crisp on the outside. Don't forget a heaping amount of warm maple syrup dripping over the sides. Don't you wish you had a plate right in front of you? Who wouldn't?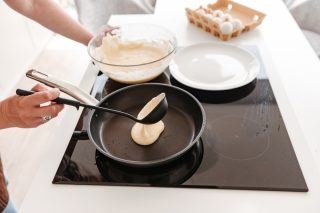 Aside from how delicious pancakes are, when piled high with sugary, buttery, fatty toppings—they can also be slightly unhealthy. But don't worry. We've put together some healthy tips for flapjacks that will have you flipping for joy!
Add whole grains. If you're making pancake batter from scratch, swap the white flour for whole wheat flour. Wheat flour offers more nutrients in its natural form. For example, wheat flour contains fiber found in wheat. White flour doesn't contain fiber because it's stripped away during processing. Try making these 5 minute whole wheat pancakes next time you have a craving.
Add chia seeds. Your first thought may be, "Why would I add seeds to my pancake batter?" Chia seeds are a nutrition powerhouse. They're high in quality protein, fiber, antioxidants and more. You can add chia seeds in two ways:
Add them straight into your mixed batter.
Replace an egg with soaked chia seeds for a vegan-friendly recipe. Soak 1 tablespoon of ground chia seeds in 3 tablespoons of water (per 1 egg).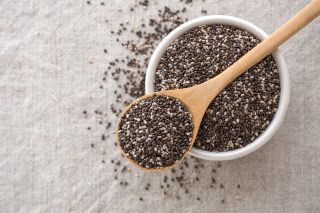 Add vegetables. Similar to popular zucchini bread or carrot cake recipes, this pancake style is on the sweeter side and more nutritious. Shred a vegetable of your choosing and add it to the batter—piece of (pan)cake. Popular vegetable pancakes include: parsnip, carrot, zucchini, squash, pumpkin and sweet potato.
Pancakes are a popular breakfast dish in most households. Next time you're in the mood to flip a few, try one of our tips to add healthy benefits. We promise they'll leave you begging for more.