It's time to break out your wicker basket and outdoor blanket that's been sitting in storage all winter. National Picnic Day falls on April 23 every year. This year, it's on a Friday — a great chance to kick off the weekend by heading outside with those you feel comfortable gathering with to picnic in your own yard or driveway. It's also pretty easy to safely socially distance when you're outside at a large park or picnic shelter. Once warm weather is here to stay (for a few months, at least), picnics are a perfect fit. Whether it's an outdoor snack during school and work at home or a weekend lunch, picnicking is pleasant.
The first step to a successful picnic is making a plan, which usually involves creating a menu. Having a plan in place makes it easier and gives you time to make and pack up healthy food choices. If possible, make your plan and prep your food the day before. This way, all you need to worry about is grabbing and going.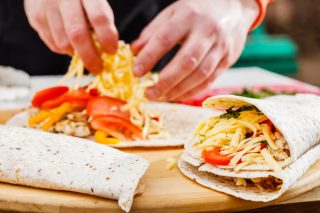 Packing a picnic basket doesn't have to be difficult or unhealthy. Here are some of our favorite healthy packing ideas:
Buddha in a jar. Not only are these perfectly portable for a picnic, but they're easy to make so you can quickly take delicious Asian flavors to go. Cook the ingredients as the recipe states then pile it high inside of the jar. Simple and delicious.
Italian pinwheels. You can't go wrong with a classic pinwheel sandwich. There are so many variations of pinwheels, which make it easy to experiment. You're only 10 ingredients away from a yummy dish that's easy to eat with your hands.
Black bean and corn salad. Whether you eat this delight with a spoon or scoop it with a tortilla chip, your taste buds will thank you. The black beans, corn, red onion, bell pepper and avocado complement each other perfectly. The freshly-added dressing of cilantro, olive oil, lime juice, honey, chili powder, cumin, salt and pepper finish off the recipe making it great for an on-the-go dish.
Fava-bean pasta salad with garlic-scape pesto. Fava beans are green legumes grown in long pods popular in Middle Eastern dishes. They're rich in plant protein and fiber. These green beans add many nutrients to this pasta salad recipe—fit for a picnic on a warm summer's day. If you don't have fava beans handy, opt for adding in some peas instead.
California club chicken wrap. Nothing beats a classic club. And in a wrap, it's even easier to take on the road. You may already have most of the ingredients at home, which makes this a great option for last-minute picnic plans. Wrap it up, pack it away and you're good to go.
Brown sugar apple dip. If you're really embracing the fun of a feast outside, you can't have a picnic without a dessert. With only three ingredients, this recipe will leave even the pickiest picnickers begging for more. Combine cream cheese, brown sugar and vanilla together — easy as that. Enjoy it with apple slices of your choice, so you can get in an extra fruit serving for the day — as dessert. What a sweet ending.
Next time you plan a picnic, incorporate one (or more) of these recipes and prepare them a day before. This will allow you to easily grab and go — and be on your way to outdoor picnic fun.