By Rebecca Mason, RD
Herb gardens are one of my favorite things about spring and summer because you begin watching your plants grow, and eventually use them at the dinner table. It's tasty and healthy to use these natural flavors instead of plain old salt and experiment with different foods.
If you're thinking of starting an herb garden during COVID-19, here are some lesser known facts about a few of my favorite herbs:
Basil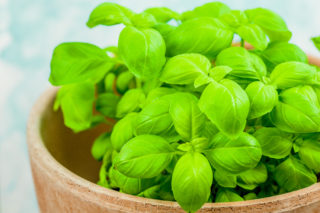 Basil has to be my favorite of all herbs; it's versatile, flavorful and I love to make a batch of fresh pesto. You can put it on everything from pasta to veggies to grilled meat all summer long. It packs a flavorful punch, but basil has nutritional perks, too. It's loaded with antioxidants and just two tablespoons of fresh basil contains about 22 micrograms, or 25 percent, of your recommended daily intake of vitamin K. Vitamin K is involved in the formation of healthy tissues, bone and blood clotting. Bonus tip: For the best punch of flavor, add basil in the last minute or two of cooking your dish, or sprinkle it on the top just before serving.
Oregano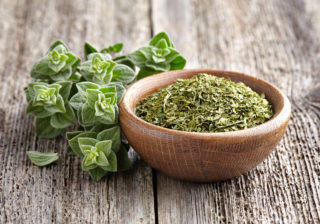 A flavorful herb with incredible benefits, oregano has an impressive antioxidant capacity— the highest out of thyme, sage, rosemary, mint and sweet basil. In one study, it was ranked to have the greatest antioxidant capacity out of 27 herbs. It's popular in Mediterranean, Italian and Mexican cuisine, but its uses go well beyond your dinner plate. Oregano demonstrates antimicrobial activity against E. coli, staphylococcus aureus and salmonella. Additionally, it's been used as an antiseptic, to aid digestion, to heal wounds and some even put a drop of oregano oil on their toothbrush to ward off gum disease. Who knew?
Parsley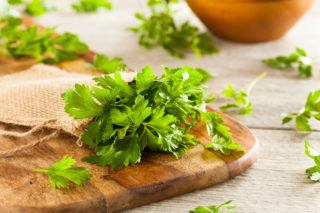 Parsley is more than just a garnish. It's native to the central Mediterranean region and is used widely in European, American and Middle Eastern cuisine. It can be described as imparting a fresh, lemony or slightly bitter flavor to a recipe. My wonderful husband regularly makes a double batch of gremolata because he knows how much I love to put in on everything! Added perk: two tablespoons of parsley contains 16 percent of your daily vitamin C needs, as well as 12 percent of daily vitamin A needs. Tasty, vitamin and antioxidant-rich, that makes parsley a great herb to add to your daily diet.
Cilantro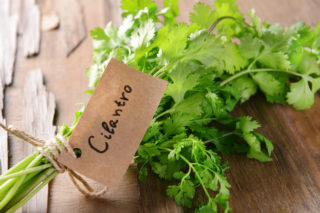 Cilantro (fun fact—otherwise known as coriander) is a common ingredient in salsa and guacamole, but its uses don't stop there. Toss it in to rice, stir fries or chutneys and ramp up the flavors of any dish (unless, of course, you are one of the 4 to 14 percent of people who have the gene that helps you detect aldehyde and therefore you think cilantro tastes like soap). It's high in antioxidants, particularly the flavonoid quercetin. Research has shown that cilantro has potential benefit in protecting skin cells from oxidative damage and may help rid the body of metals and certain bacteria.
Mint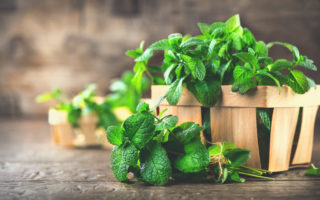 Mint is popular in Middle Eastern dishes and in Greek cuisine, and is a common single-ingredient tea. Many of us think of mint when it comes to mint jelly, fruit salad or the ever-popular mojito. But researchers say mint is an herb with added potential. Some studies have shown potential in tumor prevention, immune modulation and gastrointestinal tract relaxation. And, it's fun to use in food. Just try this mint recipe that combines mint with sweet baby peas and delicious, salty prosciutto and you'll be convinced to eat more mint.
Herbs are not only a way to add great taste to your meals without adding salt, but they also have numerous nutritional benefits. Expand your taste buds and start your own herb garden this spring to use in all of your summer recipes.
Don't have enough space in your yard or an outdoor space at all? That's no excuse with all of the great ideas online to start your own small or indoor herb garden. Creative, inexpensive examples include using a shoe organizer for small outdoor spaces, or this great collection of fun, stylish indoor herb gardens.
Happy planting, and cooking!
About the Author: Rebecca Mason, RD, is a registered dietitian and Health and Wellness Coordinator. She is passionate about helping families and individuals improve their health through nutrition education and nutritious food access. Rebecca is certified in adult weight management, and has a background in both clinical nutrition and wellness programming.