What is COVID-19?
According to the Centers for Disease Control and Prevention (CDC), Coronavirus disease 2019 (COVID-19) is a respiratory illness that can spread from person to person. The virus that causes COVID-19 is a novel coronavirus, or SARS-CoV-2, that was first identified during an investigation into an outbreak in Wuhan, China. This flu-like illness is very serious, with confirmed cases and deaths in the U.S. and Michigan rising.
How is it impacting Michigan?
On March 10, the first confirmed cases of COVID-19 in Michigan were announced and Governor Whitmer declared a state of emergency closing all K-12 schools.
President Trump announced a national state of emergency on March 13, freeing up additional resources and funding.
On March 23, Governor Whitmer signed an Executive Order directing all non-critical businesses to temporarily close and all Michiganders to stay home or six feet away from others during COVID-19 crisis. The order is effective through April 13. It directs all Michiganders to stay home unless they're part of critical infrastructure workforce, engaged in an outdoor activity or performing tasks necessary to the health and safety of themselves or their family, like going to the hospital or grocery store.
On March 29, President Trump extended social distancing and stay-at-home guidelines nationwide until April 30.
On April 2, Governor Whitmer signed another Executive Order to close all K-12 schools through the end of the school year.
Symptoms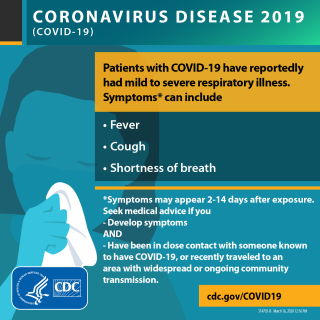 As concern for COVID-19 continues to grow in Michigan, it's important to know the symptoms involved:
Fever
Cough
Shortness of breath | Difficulty breathing
According to the CDC, these symptoms may appear 2-14 days after exposure.
How is COVID-19 transmitted?
According to the CDC, the virus that causes COVID-19 is thought to spread mainly from person-to-person.
Between people who are in close contact with one another (within about 6 feet).
Through respiratory droplets produced when an infected person coughs or sneezes.
These droplets can land in the mouths or noses of people who are nearby or possibly be inhaled into the lungs.
Learn more here.
Risk factors
Similar to influenza, people at a serious risk for developing COVID-19 are those who suffer from chronic disease and weakened immune systems. Older demographics are also at a more serious risk.
Prevention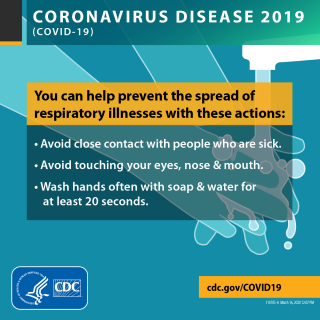 To reduce the risk, health experts recommend practicing the following everyday actions, along with social distancing (CDC recommendations here) for community locations.
Wash hands with soap and water frequently for at least 20 seconds.
Clean and disinfect any surfaces you frequently touch.
Always cover your nose and mouth when sneezing or coughing with a tissue, and then throw the tissue away and wash your hands.
Stay home when you're feeling sick.
Avoid close contact of any kind with sick individuals.
Avoid touching your eyes, nose and mouth.
Health experts in Michigan are keeping a close eye on the risk for COVID-19 throughout the state. Dr. James Forshee, Chief Medical Officer and Senior Vice President of Medical Affairs at Priority Health says, "Priority Health will continue to monitor and work with the State's Health Departments and Department of Health and Human Services to assure appropriate information is obtained and readily shared."
Virtual care for treatment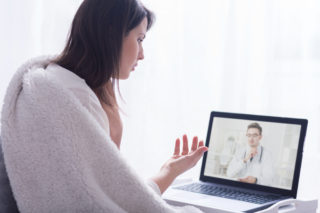 Remember that virtual care is an option for minor symptoms. Virtual care allows you to see a doctor without having to leave home, and is an alternative to urgent care or the ER. Both urgent care and ER locations can become crowded during peak illness periods and are generally more expensive per visit, depending on your health plan. Virtual care is also a good way to help prevent the spread of infections like COVID-19 and influenza. Check with your doctor's office or health insurance provider to see if they offer virtual care.
On March 20, Priority Health announced expanding $0 copay telehealth (virtual care) to all nearly one million members through April 30. Members across Commercial, Individual, Medicaid and Medicare plans* will have virtual access to medical professionals for non-emergency care at no additional cost to help mitigate further risk of COVID-19 and avoid overwhelming Michigan health care facilities.
"In times of crisis we have a responsibility not only to our members, but to the larger communities we serve. Expanding our virtual care services to all members allows us to ensure people are getting the right care when they need it and that we are also doing our part to help support our health care partners and reduce traffic to these over-burdened facilities," said Joan Budden, president and CEO of Priority Health. "We will continue to monitor this situation and work closely with physicians and legislators to ensure we are doing all that we can to keep our communities safe."
This change applies to any primary care virtual visit for ailments such as cough, cold and flu, back pain, sprains and strains and more. If you're a Priority Health member, you can access virtual care in the Priority Health app or log in to your member account at PriorityHealth.com.
Free online screening
Priority Health is offering a free online Chatbot screening for COVID-19 here.
Medications and supplies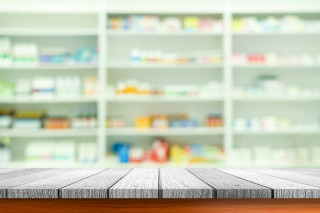 In addition to CDC-recommended home supplies, health professionals recommend making sure you have all of the necessary medications on hand to help prepare for a potential home quarantine. Ask your doctor to write a prescription for a 90-day supply or try a mail-order service that offers 90-day supplies. Your insurance company may also allow early refills for any necessary medications, depending on your plan.
Priority Health members can get free at-home delivery for a limited time through a few retail and local pharmacy vendors including CVS, Walgreen's ExpressTM and Meijer. Learn more here.
Testing
Testing for COVID-19 needs to be ordered by a doctor or other health care provider, and must be medically-necessary. Testing is currently being handled by the state and local health departments.
Individuals with mild to moderate illness do not need to be tested. They should stay home for seven days or 72 hours after symptom resolution, whichever is longer. Additionally, testing is not recommended in people who do not have symptoms. Testing does not alter the treatment of mild to moderate illness.
Governor Whitmer announced on Friday, March 6 that any medically-necessary testing for COVID-19 will be fully covered (any copays and deductibles waived) by the state and insurance companies like Priority Health. If you're a Priority Health member, see a list of FAQs here about what your plan will cover for COVID-19.
"Priority Health is proud to support Governor Whitmer and the administration as they take decisive action to protect the health and wellbeing of all Michiganders," said Marti Lolli, CMO and SVP Consumer and Government Markets at Priority Health. "Our families, friends and neighbors live and work, side-by-side, with our members in communities across Michigan. We believe that at times like these, when the nation is on alert, we have a responsibility to support our members however possible. We will continue to work closely with our physician and legislative partners across the state to look for other ways to help keep our communities safe."
Spring break travel tips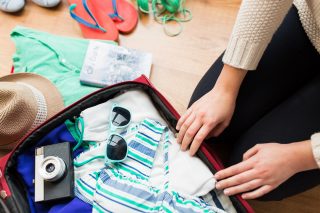 The CDC and the World Health Organization (WHO) are monitoring global travel and updating any restrictions daily. See a list of destinations with travel notices available here.
Wondering if you should cancel an upcoming spring break trip or work travel? These FAQs can help.
Beware of scams
Scammers are taking advantage of fears surrounding COVID-19. They're setting up websites to sell bogus products, and using fake emails, texts and social media posts as a ruse to take money and get personal information. Learn more and follow tips to avoid scams here.
Michigan health experts advise the best source for the most updated information about COVID-19 is the CDC.
*Self-funded employer groups are also included, unless they contact Priority Health to make other arrangements.