If you're feeling unwell but your regular doctor isn't an option, know that you have another option besides the emergency room or urgent care for nonemergency issues.
So what exactly is virtual care?
Medical professionals practice much of today's care with a smart phone or tablet, through video or even by email. We call this virtual care. Many users love virtual care because it's quick. There's no wait time, you simply use your computer, phone or other device to either chat, email or video conference a licensed medical professional. They can make a diagnosis and write prescriptions in a matter of minutes. These medical professionals are the same doctors you'd find in your doctor's office. They can often diagnose illnesses based on your symptoms alone. Without needing to see you in person.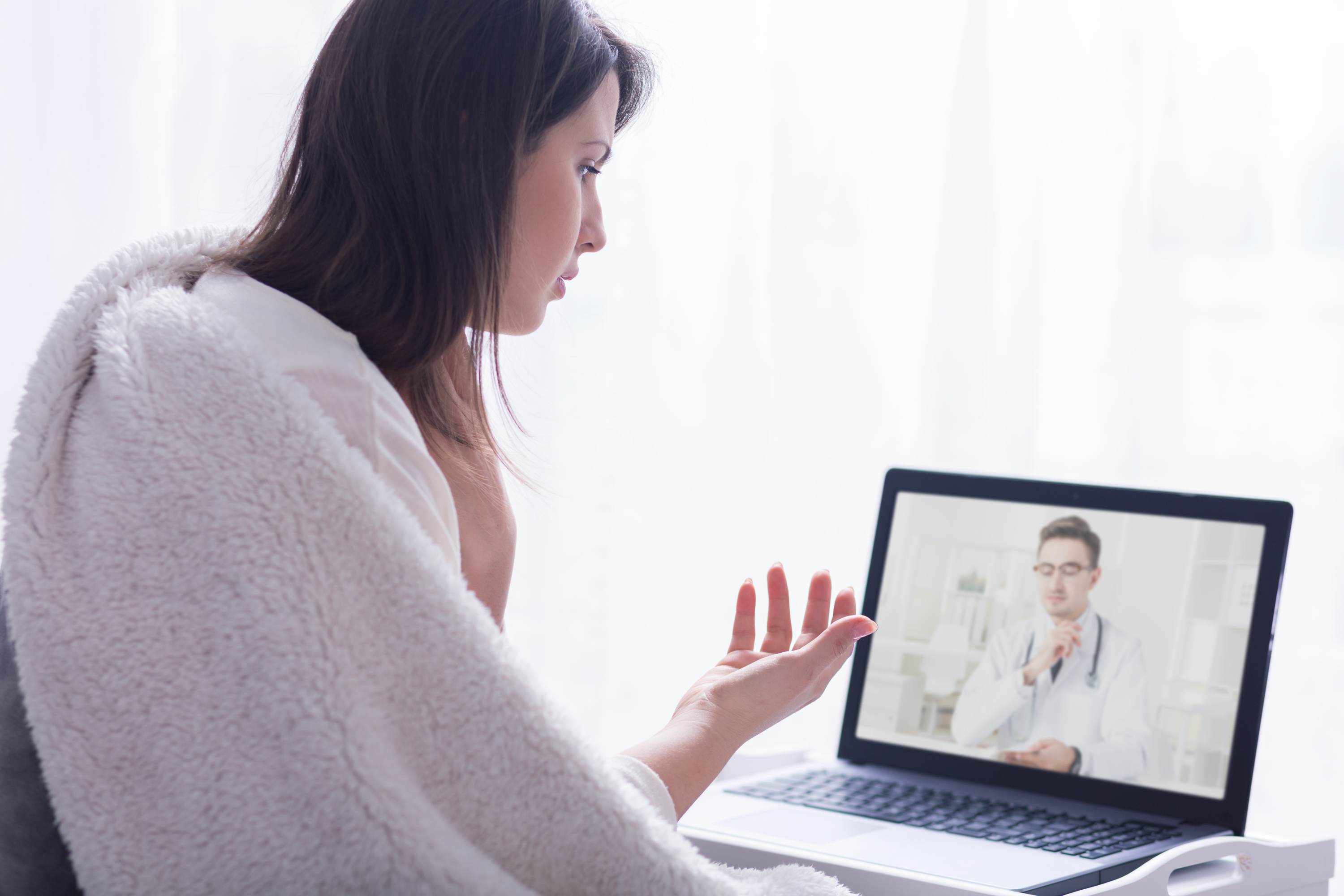 How do I access virtual care?
You can access through MD Live, Teladoc, LiveHealth Online or through the Priority Health app if you're a Priority Health member. Otherwise, check with your doctor or health insurance provider. Virtual visits offer you care anytime, anywhere, without ever having to leave your bed or couch.
What if I want to see a doctor in person?
You can still see your regular doctor. Virtual care, like the ER or urgent care, is another option for you to use if you want it. Getting care virtually is no different than seeing a doctor in person. Virtual care providers are licensed medical professionals and, like your doctor you see in person. They can make a diagnosis and write prescriptions.
Is virtual care right for me?
Virtual visits are ideal for nights, weekends and holidays. Or when you can't get to your regular doctor's office and need medical care. They're a great option if you're without access to care and can't get in to see your regular doctor right away. Or you live in a remote area, or travel frequently. It's not the right option when you or a loved one needs an X-ray or lab work.
So how do you know when to visit the emergency room or urgent care and which are appropriate for your regular doctor or virtual care? Just follow these guidelines:
Virtual care
The next time you experience any of the following symptoms and can't see your doctor right away try virtual care.
It's a great option for:
Allergies, bites and stings
Sore throat, fever and headache
Cold, cough and flu
Diarrhea and heartburn
Earache
Pink eye, rashes and hives
Urgent care
If you have a non-life-threatening condition that can't wait for a doctor visit, go to an urgent care center. If you're experiencing symptoms such as:
Minor broken bones and fractures in fingers or toes
Sprains and strains
Severe sore throat or cough
Stomachache
Urinary tract infections
Emergency room
The emergency room is designed to treat those who need immediate care and cannot wait for a doctor appointment. People who visit the ER are experiencing serious, hazardous, harmful and potentially fatal conditions such as:
Bleeding that won't stop
Pain in the chest or one arm
Poisoning or drug overdose
Seizure or slurred speech
Major broken bones
If you or a loved one is experiencing an emergency, visit the closest ER for services. And, if you can't get to the ER, call 911 immediately.
The next time you're faced nonemergency illness and can't get in to see your doctor, try virtual care for a quick and easy alternative to the ER or urgent care. Check with your doctor's office to see if they provide virtual care. Or if you're a Priority Health member, download the app or log in to your Priority Health member account to access virtual care options.