The basics.
Face masks are scientifically proven to be a barrier to spreading the virus in public spaces. When used properly, they prevent the spread of respiratory drops from person to person. Properly wear your mask by covering up from the bridge of your nose to under your chin. The most effective masks are made from cloth or paper and are widely available for purchase and distribution in many different styles. Wearing masks is one of the best ways to stop COVID-19 from spreading throughout our communities.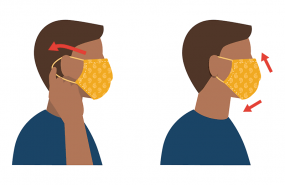 Safely unmasking and cleaning.
Once you get back home, make sure you and your loved ones are taking off your masks properly. Try to touch only the adjustable strings so that anything you might have touched since coming home doesn't get onto the actual cloth part of your mask. Also be sure to not touch your mouth, eyes or nose in the process.
A standard paper surgical face mask should be thrown away once it shows signs of damage. Otherwise you may be able to get more than a single use out of it by storing in a paper bag for 48 hours for another use. Any cloth-based mask should be machine or hand washed regularly to prevent germs from lingering. Worried about your machine damaging your mask? No problem. Simply scrub your mask in warm water and soap for at least 20 seconds and leave out for air drying.
Common questions and mask hacks.
Masks are undoubtedly an important part of keeping COVID-19 at bay, and we know that many have questions about living their daily lives with them. Here are some tips to address your common mask questions and struggles:
My mask makes it hard to breathe. Especially in the warm summer months, you may worry about a mask cutting off your oxygen supply. Rest assured, this is not the case. Proper masks are designed to have breathability. If your mask is making it uncomfortable to breathe, consider wearing it before you go out to become accustomed to it, or popping a mint in your mouth. The coolness of the mint will help relieve the stuffy feeling and help you breathe easier.
Do my kids need to wear a mask? Experts advise that if your child is over two years old, they should wear a mask. Anyone under this age should not, given the lung development process. Especially with school on the horizon, make sure your kids are comfortable wearing masks. Consider spending a few hours a day wearing them around the house or yard so your child becomes used to wearing one for longer periods of time.
Do I need to wear a mask while exercising? Summer is typically a time for outdoor activity and fitness. While that part is not entirely canceled, extra caution should be taken. Especially with activities like running, a mask isn't necessarily needed if you're by yourself and away from others. If you are to be around large groups of people when exercising, certain masks and covers designed for physical activity are available.
My mask is making my ears sore. Especially if you are wearing your mask for long periods of time, it may create some discomfort behind your ears. One mask hack to combat this annoyance is to use a paper clip or rubber band to secure your mask behind your head rather than behind your ears. If you really want to invest, you can try to make or buy a headband with buttons to help relieve ear pain.
Wearing a mask makes my glasses fog up. When your breath is trapped behind a mask, you may find that it begins to condense on your glasses. To help avoid this, opt for a mask that has a wire built into the portion covering the bridge of your nose and allows you to form the cloth to your face. By pinching the wire around the bridge of your nose, you can keep your breath from fogging up your glasses. Another option is to insert a tissue at the top of your mask between your face and the fabric. The tissue will catch most of the moisture from your breath and keep it from reaching your glasses.
Wearing a mask is making me overheat. Especially during the hot summer months, wearing a mask might cause you to feel uncomfortably warm. In many cases this is unavoidable, but there are some steps you can take to help manage the heat. Time your trips if possible so you aren't heading out in a mask during the hottest parts of the day. Tying your hair back and wearing a hat to shield your face from the sun also may help prevent you from overheating.
My mask smells weird. If your mask has an unpleasant odor, first, wash it with a favorite laundry detergent or soap. If washing doesn't completely get rid of the smell, try placing a few drops of the essential oil scent you most love on your mask—such as lavender, lemongrass or eucalyptus—or spraying with laundry or fabric freshening spray. This should get rid of the odor and make your mask smell exquisite, and maybe even a bit relaxing.
My mask is making me break out. Containing your warm breath underneath a piece of fabric traps bacteria and can contribute to acne and other skin irritation. To help minimize irritation to your skin, there are a few steps you can take:

Don't wear make up on parts of your face that will be covered by a mask. The added layer on your skin under the mask can clog pores and lead to breakouts.
Skip heavy moisturizers and opt for lighter options. Like make up, heavy moisturizers can lead to clogged pores when skin is kept under a mask for long periods of time. Consider swapping your favorite lotion for a hydrating facial spray.
Wash your face ASAP after taking off your mask. This will help clean away lingering bacteria that may cause irritation.
Wash your mask regularly. A clean mask will be less likely to harbor bacteria that causes your skin to break out.
Despite these confusing and stressful times, wearing a mask is a positive step towards eliminating the spread of COVID-19 in our states and country. Help protect yourself, your family and your community by wearing a mask.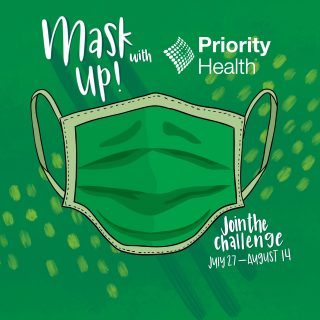 Priority Health for Good and #MaskUpMichigan 
Join Priority Health in taking the #MaskUpMichigan pledge and you could be one of three lucky people randomly selected to win a 42-can cooler! To enter the sweepstakes:
Take a selfie of yourself properly wearing a mask and share why wearing a mask is a priority to you.
Upload the photo to Facebook, Instagram or Twitter from noon July 27 to noon August 14 using #MaskUpMichigan and #PriorityHealthForGood.
Tag Priority Health in your post.
Recipients will be chosen randomly. One will be chosen at the end of each week of the contest.
Recipients will be notified they have been chosen via social media and will need to connect with Priority Health via direct message on social media to receive their prize.
Official rules for the sweepstakes are as follows:
No purchase is necessary to participate in this challenge.
You do not need to be a Priority Health member to be eligible to participate.
You must be at least 13 years of age to be eligible to participate.
Only one entry may be made per person per day.
Eligible posts must include the person submitting them in the photo.
Eligible posts must be made within the specified date range using appropriate hashtags, and adhere our social media policy, which can be found here.
Only three prizes will be awarded. No random winner will be chosen during a contest extension, but posts made during the extension will still result in donations to our community partner.
This challenge is run by Priority Health. Facebook, Twitter and Instagram are not associated with this sweepstakes.
By participating in the challenge, you agree to grant Priority Health the right to share your photo on company social media pages.
For each post made, Priority Health will donate $1 to National Alliance on Mental Illness of Michigan, an organization dedicated to helping those struggling with mental illness and their families, up to $5,000.