There are plenty of articles and studies out there citing the health benefits of volunteering and giving your time or donations to others. Now more than ever, people in Michigan are in need due to the impact of COVID-19 and with social distancing requirements in place, it can seem near impossible to help the greater good. Here are a few ways you can help, all while keeping yourself, your loved ones and the community safe.
Get crafty.
You may be experiencing some boredom at home, especially if you've already watched everything your streaming services have to offer. If you have some art supplies around the house, or even some old clothing items, they can be turned into works of art to help others. So get the family or housemates involved, and get crafting to help others with projects like:
Making and donating masks to your local hospital, nursing homes or daycares that provide child care for essential workers. Here are some tips and patterns the CDC recommends.
Sending thank you cards to your local nursing home or homeless shelters. Even better if the kids can get involved with colorful crayons, paints or markers—this doubles as creative time for them, and will bring a smile to those who can't have visitors right now.
Decorating your driveway and sidewalk using chalk or home windows with washable paints or colorful paper. Use light and inspiring messages. With so many people out walking with kids and dogs, you're sure to bring a little hope or at the very least a smile to your neighbors.
Give a little extra.  
Heading to a food pantry or a senior home to pass out food or spending time with certain populations may be hard due to social distancing. Here are some ways you can safely donate.
Go local.
You can also volunteer to help your local economy and nearby small businesses by deciding to shop local.
Buy local gift certificates to your favorite local restaurants and shops and save them for later when restrictions are lifted. Bonus: You can even gift them to front line health care workers, grocery store cashiers, mail carriers, or others providing vital services in your community.
Shop local. Many stores can have online orders placed with curbside or contact-less pickup. Check their websites for updates. Examples include: farmer's markets so you can buy some in-season local produce, local bike shops are offering contact-less tune-ups with so many people dusting off that old ten speed or a nearby nursery for plants and flowers.
Call around to your favorite local spots and asks what you can do for them — many restaurants are collecting donations for servers and many small businesses have coordinated relief efforts such as mask or food donations you can join.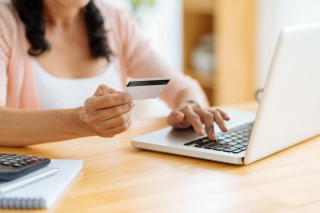 Get digital
Now more than ever, some people are struggling with social interactions. There are studies that show that not having close friends can contribute to psychological dysfunction like anxiety or eating disorders as a result of disconnection. Here are some ways former first lady Michelle Obama suggests to help those closest to you. Bonus: This helps you connect with people outside your immediate home if you're feeling isolated and lonely.
Know a teacher or two? Reach out and ask how you can help them. They're likely sad right now that they can't finish out the school year with their students—or even overwhelmed by having to educate completely virtually.
Call the parents you know who are figuring out this new normal – offer to give their kids a virtual lesson or read a story over video chat.
Offer to pick up and deliver groceries for your at-risk and older neighbors.
Call your local hospital or fire station and ask if you can order takeout for staff from a local restaurant or donate to restaurants that are already offering free meals to first responders and families in need.
If you're able, send payments to your hairstylist, house cleaner, babysitter or nail technician as if you were keeping your appointments.
Make it a point to have one phone call or positive text a day to catch up with an old friend.
Think outside the box on how to get involved and volunteer within your community. The state of Michigan has also provided an entire list of ways to volunteer and help those in need.
Aesop, an Ancient Greek author once said, "No act of kindness, no matter how small, is ever wasted."
So—help in the ways you can; your community, and your overall wellbeing will thank you.