With the impact of COVID-19, many travel plans have been canceled or postponed. This doesn't mean you have to resort to yet another streaming service binge. There are plenty of ways to practice social distancing, and now more than ever, so many websites are helping you see the world and learn new things from the comfort of your home.
Become inspired by Van Gogh.
Museums are a perfect place to start your virtual adventure. From the Louvre in Paris to the Smithsonian National Museum of Natural History, find a topic or artist that interests you and click around the museum. Get inspired by the paintings and try your hand at creating your own art. Harvard Medical School says art and creative activities can relieve stress, aid communication and help arrest cognitive decline, so take a look around a museum and get sketching. The best part? You don't have to worry the "no food and drink" rule in virtual museums.
Use this list to find a museum of your liking.
Go on a safari.
Many vacations include some type of wildlife – whether it's a trip to the zoo, seeing alligators in the wetlands or fishing, animals are a great way to reduce stress and lower your blood pressure. Instead of watching your cat or dog bask in the sun (although very cute), the San Diego Zoo has tons of live cams of their animals. Watch the polar bears eat, koalas climb and owls burrow. There are also other live nature and animal cams for you to get your fix.
Head to the theme park.
Maybe you're looking for something more thrilling than some animals or a museum. Strap into your couch and feel the air (virtually) run through your hair as you ride a number of roller coasters throughout the world. Check out some of the top rides to access virtually.
Learn something new.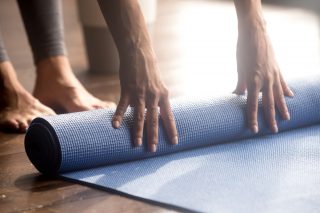 Now with more time on your hands than ever, it is the perfect time to pick up a new hobby or learn about something you've never had the time to do previously. No assembly required for most of these new hobbies, just hop online or download an app. Get started with some of these popular activities:
Learn a new language with Doulingo
Dancing, pick your favorite (salsa, hip hop, line dancing) and do a quick YouTube search to get movin' and groovin'
Practice mindfulness and meditation with the Headspace app
Learn some magic with these card tricks
Time to get flexible with some yoga
Learn all about animals with the Cincinnati Zoo's daily Facebook Live videos.
Get folding and learn some origami
Host an at-home watch party.
Completed all the above and now want to hang out and watch a movie or the latest hot series with some friends? Thanks to Netflix party, you are able to send a quick link to your friends and all watch the same movie at once with a group chat function. Now is the time to become a famous movie critic.
Strengthen your mental health.
Self-care and coping skills are critical to your mental health and wellbeing during this time. Priority Health has partnered with a digital health specialist to offer free access to mental wellness resources specifically focused on the COVID-19 pandemic. Learn more here.
With these links you will be able to perfect social distancing while learning new things and exploring the world in different ways. Who said staycations were boring?