Safety for the whole family, especially those with young kiddos, should always be top of mind when it comes to Halloween celebrations. From costumes to candy to watching out for heavy traffic, Safe Kids Worldwide offers a variety of helpful tips to walk, drive and dress safely.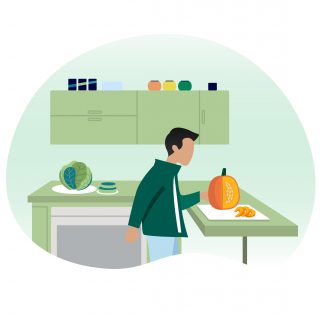 But in 2020, COVID-19 continues to spread and many families are wondering if trick-or-treating is even an option. The Centers for Disease Control and Prevention (CDC) does warn that trick-or-treating is a higher risk activity for COVID-19. The good news? If your family is healthy and wanting to get out of the house for some candy hunting, there are some extra safety precautions you can — and should — take this year.
Trick-or-Treat safer
Avoid direct contact with other trick-or-treaters who don't live in your house.
Hand out treats outdoors, if possible. Many neighborhoods are recommending grab-and-go bowls on the porch or driveway, or "trunk-or-treat" style in a safe, closed off parking lot.
Set up a station with individually wrapped treats for kids to take as you sit back and wave hello from at least six feet away.
Wash hands before handling treats.
Wear a mask.
Mask up — and not just as part of your costume
Make your mask part of your costume with a fun design that coordinates with your character.
Remember that a costume mask is not a substitute for a CDC-approved cloth mask worn properly to cover your nose and mouth.
Do NOT wear a costume mask over a cloth mask. It can make breathing more difficult.
Masks should NOT be worn by children under the age of two or anyone who has trouble breathing.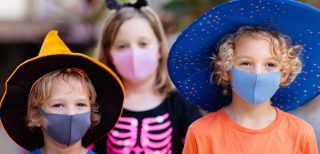 Socialize, but social distance
Stay at least six feet away from others who do not live with you.
Indoors and outdoors, you are more likely to get or spread COVID-19 when you are in close contact with others for a long period of time.
Wash and sanitize
Bring hand sanitizer with you and use it after touching objects like door handles or candy.
Use an alcohol-based hand sanitizer with at least 60% alcohol.
Parents should supervise young kids using hand sanitizer to avoid getting it in their eyes or mouth.
Wash hands with soap and water for at least 20 seconds when you get home and before you eat any treats.
Remember to check your local news outlets and social networks for participating trick-or-treat times and locations. Many communities offer outdoor costume parades or parking lot "trunk-or-treat" festivals that keep kids out of high-traffic areas. Things are bound to look different in 2020 with COVID-19 still a serious concern. Be sure to check online, community Facebook group or Nextdoor feeds, or just ask around before dressing up and heading out.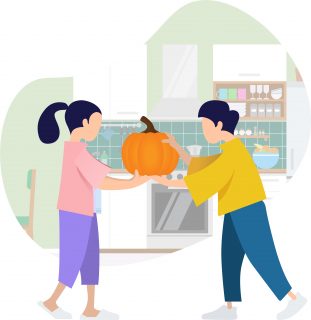 Alternatives to Trick-or-Treating
Not feeling up to trick-or-treating this year? No worries. There are many other fun and safe ways to celebrate this spooky season.
Try one of these festive ideas:
Decorate your home or yard for Halloween. Get together with a few neighbors for a decorating contest to see who can make their home look the most festive, or the spookiest.
Decorate and carve pumpkins with members of your household or outside with neighbors or friends. If your little pumpkins are too young to carve, check out these 72 creative no-carve pumpkin ideas.
Walk around your community, admiring Halloween decorations at a distance. Wear costumes to make it extra fun to wave at neighbors.
Celebrate with seasonal treats that aren't just candy — caramel apples, donuts and cider from a local orchard or this healthier version of pumpkin bread.
Visit an orchard, pumpkin patch, forest or corn maze to have fun and get active at the same time. (Remember to wash your hands or use hand sanitizer after touching frequently touched surfaces, pumpkins or apples.)
Go to a one-way, walk-through outdoor haunted forest or haunted corn maze.
Attend or create your own outdoor Halloween-themed scavenger hunt for the kids, or the whole family.
Hide Halloween treats in and around your house for a Halloween treat hunt with those in your household.
Start a fun tradition in your neighborhood by leaving anonymous "Boo-Gram" gifts on porches. Enjoy watching the Boo signs show up in windows as the fun is shared from house to house.
Hold an outdoor costume parade or contest in your neighborhood so everyone can show off their costumes. (Remember to safely social distance.)
Host an outdoor Halloween movie night with friends or neighbors or an indoor movie night with your household members. Wear your costumes!
And once you get home, try these tips from combatting the sugar rush from all of that candy.
Remember that if you are having any COVID-19 symptoms, such as fever, cough or difficulty breathing — you should stay home to help slow the spread.
However you celebrate Halloween this year, make safety a top priority to make the most of this fun and festive fall season.