By Kris Rich, NBC-HWC, CPT, CET
What a beautiful time of year in Michigan! New seasons bring new possibilities. We are lucky to live in a state where the climate gives us opportunities to change things up every few months when it comes to our outdoor activities.
This year has certainly brought about many challenges for all of us — one of them getting creative with physical activity and working with what we have available to us. As we face the upcoming winter season, we're challenged to find ways to stay physically active amidst a pandemic and cold weather. We've been getting creative for the past 8 months, we can't stop now — try mixing in one of these fun Fall activities into your routine.
Raking and Jumping
Did you know you can burn up to 200 extra calories raking leaves for 30 minutes? Raking is considered moderate physical activity, similar to a brisk walk. You also get the added benefit of building upper body strength and core strength. Think about switching sides every 10 minutes when you're raking to avoid overuse and to evenly distribute the strain on both sides. Add some fun by jumping in a big pile! This is a great way for the kiddos to burn off some energy, help out, take a break from the screens and have all sorts of sensory experiences. It also gives us adults an opportunity to revisit our childhoods and remember the much simpler times in life. Talk about a mental health break.
Backyard Games
Football season is in full swing, so why not take a break from spectating to engage in a friendly flag or touch football game in your own yard? Grab family or friends for some fun competition and exercise. Celebrate the upcoming Halloween holiday with a game of Ghosts in the Graveyard, Flashlight Tag or even Capture the Flag. These types of games increase your heart rate for some great cardiovascular benefits as well as helping you develop better balance and coordination as you pivot and spin.
Visit a Local Pumpkin Patch
What a fun, alternative way to meet your daily steps goal. Walking through the rows of brilliant pumpkins gives you the opportunity to select from a huge variety rather than just a limited bin at a store. Who doesn't want the perfect pumpkin to carve? Most pumpkin patches or cider mills also have corn mazes, which is another great way to accumulate those steps — much more exciting than a treadmill.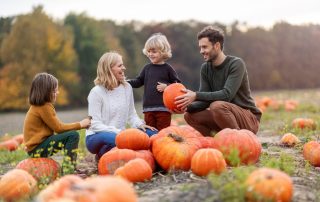 Hiking
Walking is always a great choice when it comes to exercise, but hiking is a great way to change it up. Did you know that hiking works your body in ways that are extremely different than walking? First, you are on uneven terrain which produces a dynamic workout that increases your heart rate and metabolic rate, causing you to burn calories faster. You are also shifting your weight and trying to balance your body which engages and strengthens muscles you wouldn't necessarily use while walking on flat terrain. Hiking isn't without certain risks, but it can be less taxing on your joints due to the softer surfaces of dirt and trails. Find a local hiking trail near you here.
Pick Your Own Apples
You may not realize it, but picking apples uses many different muscle groups. These groups are activated when you are climbing a ladder or an actual tree, using your legs to boost you up and your arms to reach above your head and pick your apples. Apple picking is not only fun, but a great way to burn some extra calories. Plus, they can be used for many yummy, healthy recipes.
Hit the Beach
Yep – you heard me! Fall beach days are far less crowded, making them great outdoor areas to exercise. Try taking a walk or jog along the shore or bring your dog if they're allowed for a game of fetch. Get the family involved by bringing a football or volleyball and making a game of it. Working out in the sand will not only increase your heart rate, but because you are on uneven ground, your core will engage to help keep you balanced. If you own a wetsuit, paddle boarding, kayaking, or surfing are also great choices on a calm day.
Even though the weather is getting cooler and the days are getting shorter, there are still plenty of ways to stay active outdoors in a safe manner. Think about changing your routine and trying something new. Keep your body guessing. We have been getting creative all year, having to change what we are used to doing and creating new "normals." Take advantage of what fall in Michigan has to offer and get moving!
About the author: Kristina Rich, NBC-NWC, CPT, CET is a nationally-certified health and wellness coach at Priority Health. She works with members to help them develop a personalized plan for their own health and wellbeing based on what is realistic and beneficial. Kristina is also a certified personal trainer and cancer exercise trainer through the American College of Sports Medicine.