After a long winter of hibernating indoors and staying home more than usual due to COVID-19, it's finally time to get outside in the sun more. For men, though, it's also time to take a look at your health. June is Men's Health Month — the perfect time to make sure your body is ready for the fun that's ahead.
No matter your age, here are five ways to stay healthy in the summer sun.
1. Don't forget sunscreen.
Before you head out on your summer adventures, don't forget to put on sunscreen. Depending on your complexion, moderate sunburn can occur within minutes.
Skin cancer is the most common cancer among men and recent studies have found that more than 8,000 men will die each year from melanoma.
Applying sunscreen regularly and to all areas of exposed skin is critical in preventing all forms of skin cancer. Make sure you are applying sunscreen to get the often forgotten places such as the ears, the tops of your feet and, if you've got short hair, your hairline and the back of your neck. Be especially careful between the hours of 10 a.m. and 4 p.m., as that's when the sun's rays are the strongest. Sunscreen should be applied every two hours.
2. Hydrate, hydrate, hydrate.
As the temperature rises, so does your body's need for water.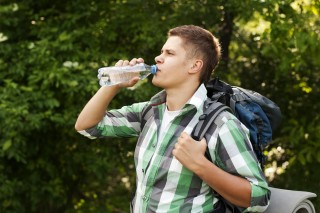 According to the American Heart Association, staying hydrated is critical for your body's health. Dehydration can lead to headaches, dizziness and, eventually, heat stroke. The amount of water a person needs while in the sun depends on a variety of factors, including the temperature and a person's weight and health history.
3. Schedule your yearly checkup and other screenings.
Depending on your age, at an annual checkup your doctor runs different tests to make sure you're in tip top shape. If you delayed or skipped routing health care appointments in 2020 due to COVID-19, make 2021 the year you get caught back up on your preventive care.
In your 20s and 30s, you'll need a physical and will want to keep an eye on your cholesterol and blood pressure and perform self-exams for testicular cancer. Men in their 30s and 40s should also be screened for diabetes, prostate cancer and heart disease.
Once you're over 50, expect yearly electrocardiograms to check heart health as well as more frequent vision and hearing tests.
Yearly physicals are considered preventive care, so depending on your health insurance plan this visit could even be free. If you do not have insurance, the Michigan Department of Health and Human Services has resources to help you find a low or no cost provider. If you're concerned about COVID-19 and social distancing, try virtual care options. The pandemic has led to more doctors and providers offering their services virtually, so you can get all or part of your checkup from the comfort of your own home.
4. A beach day doesn't have to mean a missed workout.
Get creative! Playing catch on the sand will work your calves, abs and upper body, and a swim in a lake or pool is a great cardiovascular workout. Swimming is also a non-impact workout, so it's easy on your back and joints.
Men are at a greater risk of heart disease than women, and exercising for 20 to 30 minutes a few times a week can help to reduce that risk. Here are some more ideas to get active at the beach.
5. Eat healthy.
Summer is the time for picnics and barbecues. While it can be hard to resist the goodies from the grill, just a few simple changes to your plate can help both your waistline and your heart.
Men can reduce their risk of heart attacks by reducing fat and sodium intake, limiting alcohol intake and eating plenty of high fiber foods.
At your next barbecue, grab a Portobello burger instead of a hamburger. Switching to the mushroom patty can cut more than 200 calories from your burger. If the Portobello's not for you, try a chicken breast instead of the burger. Here are some more healthy grilling ideas for summer.
Skip the ranch and sour cream based dips with your chips and opt for guacamole or a homemade salsa. The avocado in the guacamole is a super food, filled with nutrients that can help reduce cholesterol and triglycerides. The tomatoes and peppers in the salsa are loaded with vitamins A & C, as well as folic acid.
Staying healthy this summer can help ensure that you're around to enjoy many more days at the beach and in the sun.