There's nothing like the smell and sizzle of a freshly grilled meal on a hot summer day. Grilling is a favorite way to cook in summer—especially in Michigan when warmer weather is only here for a few short months. And with COVID-19 concerns, Michigan residents are cooking and eating at home more than ever. Grilling and eating outside can add a change to your daily cooking routine.
It's easy to let the calories climb at a cookout. For example, a grilled brat on a bun, a ½ cup of store-bought potato salad and a can of soda adds to 757 calories, 38 grams of fat, 84 grams of carbohydrates and 1,350 milligrams of sodium. That's about 42% of your daily calorie needs and 20% of your daily fat needs. And on a hot day, that meal can leave you feeling bloated and less likely to want to get up and get active.
Lightening up your summer cookout menu isn't hard, and it doesn't mean you have to sacrifice taste either. Here are some delicious, nutritious recipes you can use for your holiday get-togethers and all summer long.
Apps and sides: Flavorful, healthy pairings
Everyone who is craving a lighter seafood dish will love this "skinny" shrimp salsa. Fresh and packed with protein, this dish is perfect served with baked chips. And it's only 75 calories per ½ cup serving.
Macaroni salad is a classic side dish found at most summer cookouts. Cut the calories but none of the creamy flavor with this lighter version. Traditional macaroni salad contains 470 calories per serving – this recipe has only 130 calories per serving. Make it even healthier by substituting whole grain macaroni. Enjoy all of the flavor, with none of the guilt.
Add more veggies to your grill gathering menu with a creamy broccoli salad that's only 107 calories per serving. There's a lot of room to make this salad your own, and you can substitute Greek yogurt for the sour cream to add more protein and reduce calories.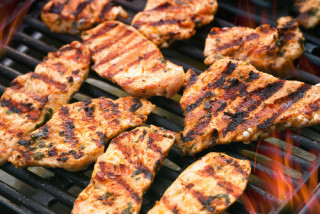 Entrees: Lighter versions of the grill master's main event
Burger and bacon lovers will enjoy this twist on a traditional turkey burger. Sweet potato and bacon turkey burgers are perfect for grilling up. The sweet potatoes add moisture to patties, while bacon amps up the flavor. The best part? These burgers are only 338 calories per serving compared with a standard bacon cheeseburger which tend to be around 600 or more calories a piece. Pair with a whole grain bun and some fresh veggies—like carrot fries made in the air fryer.
It feels even more like a barbecue when something is grilled on a skewer. Try these yummy pork and mango kebabs. They're packed with protein (19g per serving!) to keep you satisfied, with only 180 calories.
Here's a lighter take on a summer grilling staple: all-American BBQ chicken. Most bottled barbeque sauces are loaded with sodium and high-fructose corn syrup. This recipe uses an easy homemade version that cuts down on the calories and salt, but still packs that tangy punch. Each serving is only 221 calories, leaving you plenty of room for dessert.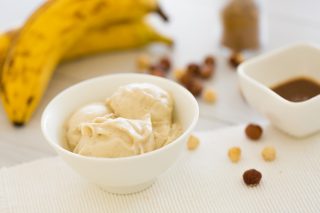 Desserts: A sweet, but not too heavy finish
Looking for something quick and easy? After dinner, keep the grill going with some delicious grilled pineapple. Paired with a sweet honey, lime and cinnamon marinade, this dessert is still only 50 calories per serving. Not sweet enough for you? Serve with a scoop of your favorite frozen yogurt or sorbet.
Red, white and blueberry cheesecake yogurt cupcakes are the perfect way to add a little patriotic flair to your sweet finish. These mini cheesecake cupcakes are made with a mixture of Greek yogurt and cream cheese, on a vanilla wafer crust. Top those off with fresh strawberries and blueberries, and you have the perfect 100 calorie treat to satisfy your sweet tooth at the end of your meal.
Get the whole family involved making these frozen banana popsicles! This summer treat only takes four ingredients, and requires very minimal prep time. Garnish your popsicles with some red, white and blue sprinkles, or your favorite crushed nuts for some extra protein. These frozen delights are less than 100 calories!
No matter how you decide to lighten up your outdoor cookout, remember that small substitutions can make all the difference. Here are even more tips and recipes to lighten up your summer celebrations. Happy grilling!