By Kris Rich, NBC-HWC, CPT, CET
It's a pretty safe to say that if you live or vacation in Michigan during the summer months, you'll want to do your exercising outdoors for a nice change from indoor exercise equipment. After all, we only get three guaranteed months of warm weather in the mitten state: June, July and August. Aside from the regular summer activities, there are plenty of other ways to stay active this summer without getting bored. Here are five unique and entertaining ways to spice up your summer workouts:
1. Paddleboarding
If you've never given this a try, make this the summer to do so. There are various benefits from increasing core strength and improving balance to strengthening all muscle groups and building cardiovascular endurance. Not to mention reducing stress. Water naturally soothes our bodies, and by listening to the sound of the water with the rhythm of your stroke—and feeling the sensation of gliding—you can easily melt away stress in a hot second.
2. Yoga in the park
Why not incorporate the smells and sounds of nature as you connect with the earth, and breathe the fresh air? Break out of the stuffy yoga studio this summer and experience what it's like to get your Zen on and be one with nature. Plus, you'll have the added benefit of a little mixed terrain and no competition for floor space. There are many yoga studios or community organizations around the state that offer free classes once a week in local parks.
3. Take the stairs
Looking for a more creative way to get in your 10,000 steps a day? Try visiting a local school stadium and climbing your way to the top. You'll burn more calories per minute than you will jogging—and build great muscle tone at the same time. Ever hear of the "stairs on Division Street"? It's a little-known spot in the Grand Rapids area located at 700 N. Division. Check it out. Great workout, and you'll no doubt see some fellow climbers working their way up to the top. Not in West Michigan? Try a local park or beach with lots of stairs. In the Detroit area, climbers love museums.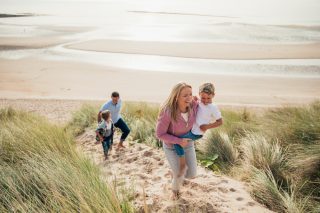 4. Beaches and sand dunes
Going to the beach doesn't always have to mean sitting in your chair or lying on your towel all day next to your big cooler of snacks. Although that does sound very appealing, try burning some calories first and resting second. Did you know you can burn between 330-800 calories by beach walking and running? Walking or running on deep, loose sand challenges your balance and engages more muscle fibers. This means you can burn 30% more calories than walking or running on a flat surface. And sand dunes along the Great Lakes shores offer steep hills for an even bigger burn.
5. Playing Frisbee
It's an outdoor game that's been around as far back as any of us can remember. Even though there are a lot of new, more expensive toys on the market today—keep it simple. Grab a Frisbee and a family member or friend and give your upper body a workout. Playing Frisbee engages your shoulders and arms while also improving hand/eye coordination. You'll also get that heart rate up running like crazy to try and catch it. You can also try one of the many Frisbee Golf courses around the mitten state–just check the Web to make sure they are open with the ongoing COVID-19 restrictions.
Keep your activity exciting and engaging this summer. Earn those naps in the hammock or in your beach chair. Summer goes by way too quickly in our state, so make sure you find ways to stay active as your schedule gets more relaxed and less routine. And most importantly, enjoy the shortest season of the year as you get moving Michigan!
About the author: Kristina Rich, NBC-NWC, CPT, CET is a nationally-certified health and wellness coach. She works with members to help them develop a personalized plan for their own health and wellbeing based on what is realistic and beneficial. Kristina is also a certified personal trainer and cancer exercise trainer through the American College of Sports Medicine.