There's perhaps nothing more reminiscent of summer than ice cream. However, the nutritional content of this fun, frozen treat can cloud the sunny memories. Fear not, those clouds can now be cleared up by a plethora of healthy and delicious ice cream recipes and alternatives.
Healthier brands. In this day and age, more and more brands are emerging with the mission of making healthier ice cream more appealing. Many of these brands incorporate healthier ingredients such as organic stevia, cane sugar, real milk and erythritol (a sugar alcohol food additive that can serve as a low-calorie and sugar sweetener). Some of these brands include Halo Top, Arctic Zero, Talenti and Enlightened, and they can be found in most grocery aisles in a variety of different flavors.
Adventurous alternatives. Your kids may argue otherwise, but there are many non-ice cream alternatives that can provide frozen relief on a hot summer day. Frozen fruits can often make a big splash, both in smoothie and popsicle form. Peel, chop and freeze your household favorites and add ingredients such as soy or almond milk, green tea or any other herbal liquid to give your recipes an extra healthy boost. Frozen yogurt is also a readily-available alternative, with several self-serve options around Michigan.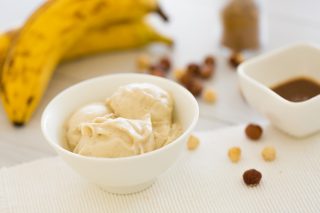 Mitten-based options. Speaking of Michigan, we encourage you to explore healthy ice cream alternatives in your own neighborhood.
Our favorite recipes. Want to put some of these ideas to the test? Check out a few of these summertime favorites.
So any time you're craving a cold sweet treat, scoop into one of these delicious ice cream recipes for a healthier alternative.