For Michigan families, August can be a bit frantic. With a busy school year starting up again and COVID-19 uncertainty looming, there's a newfound sense of urgency when it comes to getting in those outdoor activities before the cooler weather hits. No time is better than Labor Day weekend.
Of course, getting your kids up and exercising tends to be easier said than done. Screens and gadgets can often shadow a chance for sunny activity. So, why not make it fun? These tips and ideas can help your kids start the school year on an active note.
Track those steps.
Your children likely own many trinkets that they use daily. This one, however, can help get them engaged and excited about being active. Pedometers help track steps taken, with some able to convert those steps into total miles walked. Sure, numbers may not be the most attractive thing to your kids with school starting, but adding an incentive to them can help. Establish a Labor Day weekend "step goal" for your kids and provide a possible reward for hitting or surpassing it. Whether they know it or not, there are a plethora of ways to achieve these goals; even just walking around the yard.
Family-friendly competition.
The Olympics unfortunately did not take place this year, but that doesn't have to stop you from having one of your own. Competitions, even at a friendly level, can increase your kids' motivation to get moving, and there are lots of great ways to make it happen. Relay races at the local track, tug-of-wars in the backyard or even a good old-fashioned scavenger hunt can boost both your kids' competitive spirits and physical activity. Games like these can provide opportunity for incentivizing as well.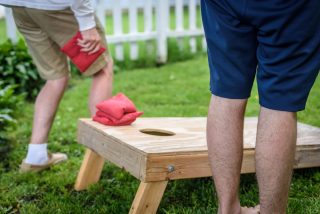 Get your furry friends involved.
It's often said that our own furry family members can keep us on our toes, but that isn't always a bad thing. When it comes to staying active, your pets can hold you accountable for getting in a little exercise. The average daily walk time for a healthy dog is 30 minutes, dependent upon how active of a breed it may be. These walks can either be brisk or leisurely, giving you a chance to incorporate more family members. Are you more of a cat family? No problem. Although they may not be as active as dogs, you can still get some exercise in with them around the house by tossing pet toys.
Splish splash.
Labor Day weekend often marks the final opportunity to get out and enjoy time on the water with your family. While you may be tempted to simply lounge around the pool or lakeside, consider taking advantage of some of the more rigorous water activities. Paddleboarding, kayaking, canoeing and even just regular swimming can both provide a source of fun exercise and cool relief from the sun. Be sure to follow general water safety rules while enjoying these activities.
Here's to hoping one of the last weekends of summer is both fun and active for you and your loved ones.