Did you know health care costs vary significantly depending on where you go to have to have an illness or injury checked out? It makes sense because after all, the costs to keep an emergency room up and running are much higher than the overhead costs to operate an urgent care center. As a result, seeking care in the ER will cost considerably more—even for the same treatment—compared to an urgent care or virtual visit. That's where VUE comes in—as an easy way to remember your care options to help you save money.
Talk to your health insurance provider to see what resources they offer to help your employees get a better understanding of the difference in costs, services and wait time between the many places they might receive care. Priority Health offers employer group members a toolkit to help employees VUE their care. It includes messaging and materials for bathroom signage, posters, table tents for breakrooms, Intranet content and more. Using this quick acronym, employees can decide whether the care they need warrants virtual care (V), urgent care (U) or the emergency room (E) based on symptoms, urgency and whether or not their primary care provider is available. It's important to talk to one's doctor first, but it's not always an option.
V: The value of virtual care
The advent of the internet brought new ways to receive care that don't require in-person visits. Medical professionals can practice today with a smart phone or tablet, through video or even by email. We call this virtual care, and it's convenient for several reasons. For starters, it's quick. With very little wait time, employees can use their computer, phone or other device to chat, email or video conference a licensed medical professional who can make diagnosis and write prescriptions in a matter of minutes. Virtual care can be accessed through the Priority Health app for example, or other options including MD Live, Teladoc or LiveHealth Online. Secondly, virtual care is extremely affordable compared to other methods of receiving care. Most members of Priority Health can get virtual care for as little as $0 and no more than $45 per visit. During COVID-19, virtual care is a great option to keep your employees and others safe from additional exposure to the virus and to help avoid crowding facilities for those who need more serious care. Finally, virtual care is ideal for those who travel for work or live in rural or less populated areas where urgent care centers aren't nearby. It's a great option for:
Allergies, bites and stings
Sore throat, fever and headache
Cold, cough and flu
Diarrhea and heartburn
Earache
Pink eye, rashes and hives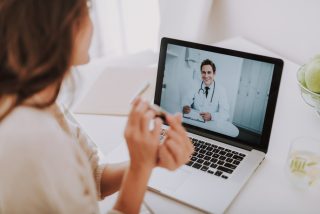 In addition to virtual care, many insurers include similar coverage for convenient care, or care from medical professionals in retail spaces such as pharmacies and department stores. Check with your health insurance provider to learn all of the options available to your employees.
U: Understanding urgent care
For a non-life-threatening condition that can't wait for a doctor visit, employees can go to an urgent care center to see a doctor. There are roughly 500 urgent care centers across Michigan, so finding one nearby shouldn't be a problem unless you're in a remote or rural part of the state. These centers cover many common medical needs, and they generally even perform their own X-ray and lab services. Urgent care centers are great for symptoms such as:
Minor broken bones and fractures in fingers or toes
Sprains and strains
Severe sore throat or cough
Stomachache
Urinary tract infections
X-rays, labs and tests
E: Engaging the emergency room
The emergency room (or ER) should always be the last resort in receiving care. It's designed to treat those who need the most immediate care and cannot wait for a scheduled doctor's appointment, a virtual visit or a trip to an urgent care center. People who visit the ER are experiencing serious, hazardous, harmful and potentially fatal conditions such as:
Bleeding that won't stop
Pain in the chest or one arm
Poisoning or drug overdose
Seizure or slurred speech
Major broken bones
Unlike virtual, convenient or urgent care, the ER costs a considerable amount of money. The services provided are more expensive, and employers ultimately pay more. And as COVID-19 continues to spread statewide, many ERs are crowded with longer wait times, plus the risk of exposure to the virus.
Staying in-network and finding a doctor
No matter where your employees VUE their care, remember to make sure they receive care at an in-network facility. Out-of-network care can result in higher costs for both of you. Your company's health insurance plan will detail its network facilities—some even include a helpful map. Ask your company's health insurer about your plan and your network, as well as where employees can receive care covered under the plan. It's also important to have a doctor or primary care provider (PCP); your insurer may have designated one to your employees. If your employee isn't sure who their PCP is, they can contact your company's insurer to find out. Priority Health members can use the Find a Doctor tool in the Priority Health app.
Communicating the differences between virtual, urgent and emergent care with employees is important to engage employees in their health and optimize everyone's budgets. Talk to your health insurer about the resources available to help your workforce VUE their care.