By: Tatanisha Worthey / This Worthey Life
Many holiday traditions revolve around food, none more evident than when we gather around the dining room table to share a meal. 
Thanksgiving is just around the corner, and we're in prep mode to get everything ready for a day of food, family, and gratitude. 
Speaking of gratitude, I'm thankful for the opportunity to gather with our family and friends this year. Connecting with our loved ones around a beautiful holiday table is essential for our mental and physical health. 
You may have already made a to-do list, but don't forget about table decor! After all, how we arrange our spaces can have an impact on our wellbeing. For inspiration, I'm sharing five tips on how to create a beautiful Thanksgiving table for the big day.
Style.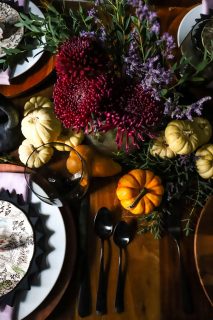 Do you like setting your table around a theme or particular style? If so, that's the first place to start. Use places like Pinterest, browse decor magazines, or check out the tablescapes on our blog for inspiration. Do you like a formal look or lean towards a casual table setting? Do you prefer a modern look vs. a rustic shabby chic style? Once you've determined your style, you can move on to the next step. 
Pro-tip: When determining my style, I lean towards how the rest of my house is decorated. If my current theme is modern, then my tablescape will have a modern look. If I'm into the boho style, then I will have a boho-modern table setting.
Bring in the color.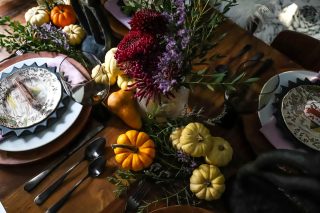 It's okay to use the traditional Thanksgiving fall colors (orange, red, yellow), but I like to think outside the box with other colors. This year, my current decor theme focuses on shades of purple, so my Thanksgiving tablescape carries the same colors. However, you can also lean towards earthy hues, such as browns, creams, and greens.
Linens.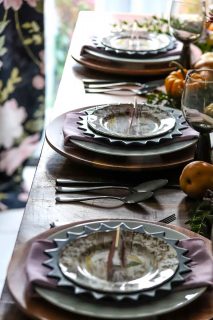 A tablecloth or other type of covering will provide the first layer on your table. Grab a tablecloth featuring a holiday motif or use a solid color. Pull out a white linen tablecloth – maybe an heirloom tablecloth with lace hand-stitched by your great aunt. Or improvise with a non-tablecloth option – a large piece of denim, a chambray sheet, or a lightweight plaid blanket.
You can also layer in a table runner down the center of the table. Alternatives to a table runner per se could be a swatch of fabric, a piece of burlap, or a strip of brown kraft paper.
Pro-tip: It's okay to skip the tablecloth, which is my preference. 
If you have linen napkins, use them! They convey that you've pulled out all the stops for your guests. Any napkin – linen or paper – can be rolled and secured with a napkin ring, a festive ribbon, or even a piece of twine. 
Dinnerware.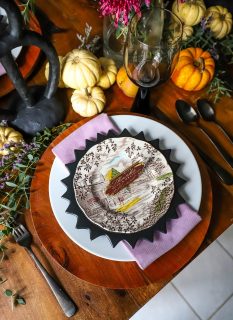 Pull out the china from your wedding or inherited from your Grandmother. However, you can never go wrong with solid white plates – they go with anything. Feel free to mix up patterns. For this idea, I'm mixing styles, colors, textures, and patterns: woodgrain, black silverware + glasses, combined with purple linen napkins, patterned plates coupled with white plates. Don't forget to add a place card at each setting.  
Centerpiece.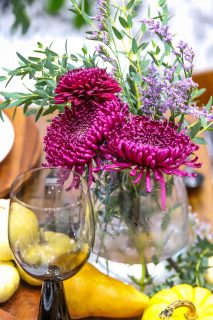 Now to the focal point of the table, the centerpiece! You can sprinkle in as many elements as you want. While the options are endless, I love using fresh, seasonal flowers. There are even health benefits to having plants around your home, making fresh centerpieces even more appealing. For this Thanksgiving tablescape, I picked up some dahlias and green + purple stems. I also added black candle holders with purple candles and small mini pumpkins. Here are some other ideas for a centerpiece:
Framed sayings or vintage family photos 

Fresh/faux pine boughs

Natural elements – wood sliced cut from a log

Pillar candles 

Pinecones – large/small, natural/bleached

Ribbons 

Tapered candles in candleholders
Now that you have these five tips, gather everything you need to create a beautiful holiday tablescape that you and your friends or family can enjoy a nice meal. And if you've found these tips helpful, tag me on Instagram so I can see your Thanksgiving tablescape! (IG: @thiswortheylife)
Happy Thanksgiving!
About the Author: Tatanisha is a mom of three teen boys, residing in Mid-Michigan along with her husband and two adorable Labradoodles. She is the co-owner of This Worthey Life, a food + lifestyle blog.