By: Tatanisha Worthey / This Worthey Life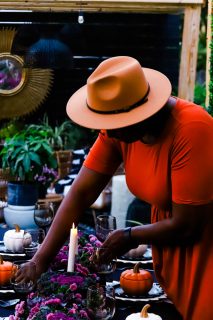 We've shifted from those warm summer months to the cooler fall days! The leaves are changing colors, the air is crisper, and there's a feeling of anticipation in the air. It's a great time to do things you may not have done during the summer due to being busy or feeling too hot. 
Fall is also a great time to make memories and spend quality time with family.  Here are six ways you can make sure this fall season is filled with joyful moments. 
1. Start a new tradition with your family.
Maybe it's apple picking, making pumpkin pie, or camping out in front of a bonfire. Whatever you decide to do as a family this fall, start something new and exciting together.
2. Have an outdoor fall harvest party.
Hosting or attending an outdoor fall harvest party is a fun way to get into the fall mood. With hot apple cider, a warm bowl of chili, cozy blankets, and the crackling sound of a fire in the background, I can't think of a better way to end the fall season. 
Here are some tips to help you host an outdoor harvest party, which could also work for Thanksgiving!
Decorate your table/space with pumpkins, corn stalks, gourds, and fall

ornamental cabbages.

Create a fall charcuterie board filled with fall-related snacks + appetizers.

Serve hot food, hot apple cider, chili, pumpkin soup, and other

autumnal dishes

.

If you're hosting your party outdoors, add warm elements, such as a patio heater, cozy blankets, and have a fire going in the firepit. 

Make sure you let your guests know to dress in layers. 
3. Visit a local orchard or cider mill.
We've made it a tradition over the years to visit our local cider to get our pumpkins, fresh donuts, and a few jugs of apple cider. It may be one of the best fall activities for families. What's fall without a few pumpkins? Picking out your own is one of the best ways to get what you want, and it makes for great fall photos!
4. Fall color tour around Michigan.
Fall is the perfect time to explore Michigan and its many fall colors. Fall color tours are offered throughout this magnificent state, so plan your trip today! You can travel by train or car from one region of brilliant hues to another. Michigan offers something for everyone with unique sights along each route.
5. Host a bonfire in your backyard
.

In September, October, and November, you'll find us using our firepit. The chilly nights provide a perfect atmosphere for gathering around to enjoy time spent with friends or family while roasting marshmallows by its warmth! Here are a few things you'll need to host a bonfire in your backyard:
Firepit

Firewood

Seating

Cozy Blankets

Lights

Relaxing + chill music

Snacks

S'mores/dessert board

Drinks
6. Get ready for the upcoming holidays.

Fall doesn't end until the middle of December. With Thanksgiving just around the corner, there are plenty of things to do during the next few months. 
Create a giving tree and share what you're thankful for this year. 

Host a Friendsgiving party with close friends.

Go Tailgating or host a football watch party. The best watch parties are the rival games. My favorite games to watch are Michigan State vs. Michigan and Michigan vs. Ohio State. Go Green! 

Start decorating for the holiday season. 

Bake pumpkin bread or a fall dessert. 
Not only is fall one of the most beautiful seasons, with the changing leaves and chilly weather, but it's also one of my favorite seasons (besides the winter holidays!). I use this quote by L.M. Montgomery often: "I'm so glad I live in a world where there are Octobers."
Make the most of these fall activities, and head outside this weekend or next week with friends and family. And remember to enjoy these moments before the seasons shift again. 
Happy Fall, Y'all! 
About the author: Tatanisha is a mom of three teen boys, residing in Mid-Michigan along with her husband and two adorable Labradoodles. She is the co-owner of This Worthey Life, a food + lifestyle blog.