It's impossible to plan ahead and account for illnesses in project timelines, but a few preventive measures in the workplace can help keep the entire team healthy, and more productive as flu season rolls around.
Each employee is ultimately responsible for their own health, but a few helpful reminders around the office never hurts either. The Centers for Disease Control and Prevention (CDC) has created ready-to-use print materials for businesses to spread the word about flu prevention. COVID-19 also still remains a concern, and the symptoms of the two illnesses can be similar. The CDC provides more information about the difference between flu and COVID-19 symptoms.
In addition, consider these seven simple tips to help you, and those around you, stay healthy this flu season:
1. Get vaccinated.
One of the best ways to prevent the flu is to get your flu vaccine. Although flu season tends to hit hard in January and February, it's best practice to schedule an appointment for a flu shot as soon as it becomes available. And before you pay full price for your vaccination at a clinic or retail location, be sure to check with your health insurance provider. Most plans offer flu shots as a preventive benefit at little to no cost when you go to an in-network location. Check the state's flu vaccine directory here or ask your primary care provider for the best options near you.
2. Maintain distance.
If you are in the office and a co-worker is coughing or sneezing, has previously been out sick or is showing flu-like symptoms, keep your distance from them. If you are working form home, practice this same caution if a family member or friend begins to display symptoms. Typically, adults are contagious one day before they develop flu symptoms and up to a week after becoming sick. Don't forget that this applies to physical objects, too. You might want to think twice about using someone else's stapler, scissors or borrowing a pen during flu season.
3. Cover your mouth and nose.
The flu virus is generally spread by mucus from person to person. If you feel like you need to cough or sneeze, use the inside of your elbow to avoid spreading germs to your hands, which you will more likely use to touch door knobs, the coffee pot other shared office or home supplies.
4. Disinfect your office and home.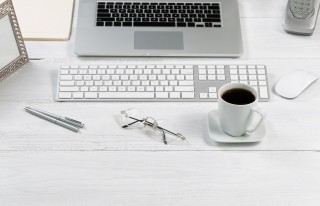 Wipe down your desk, keyboard/laptop, mouse, phone and even your stapler with disinfectant wipes to avoid the spread of germs. Be sure to also regularly wipe down items within your home that many people are using and touching. And what's the bonus of having a clean desk? You may just be more productive. Several studies show that clutter undermines productivity and motivation. A clean desk can help your mind focus.
5. Wash your hands thoroughly and frequently.
Wash your hands often, and with soap and water, for at least 20 seconds. If soap and water are not readily available, use an alcohol-based hand sanitizer with at least 60% alcohol. It's a good idea to make hand sanitizer readily available in common workspaces or when you head out of the house. Also, avoid touching your eyes or mouth if you haven't recently washed your hands.
6. Practice other healthy habits.
One of the best ways to keep your immune system strong is by practicing healthy habits all year long such as drinking plenty of water, eating healthy and getting enough sleep each night.
7. Use your sick days.
Finally, if you're experiencing a fever, headache, sore throat or other flu-like symptoms, use your sick days. Regardless of the size of the project, it is important to take time to relax and focus on getting yourself feeling so you can get back to work faster, and prevent your symptoms from getting more severe.
Follow these seven tips to help you fight the flu at work this season—and keep productivity at its best.