Patients and providers have increasingly voiced their displeasure with the health care sector's dinosaur-like behavior when it comes to the use of technology.
This is not in reference to the actual medical equipment, but the personal component where the blatant inefficiency, disconnection and lack of integration lead to day-to-day struggles for all parties.
However, this disconnect is starting to be resolved in the health care space. The technology exists, now it's time to utilize it.
This inefficiency creates wasted time and money, additional administrative tasks and mistakes as information is shared manually.
It is disconnected when patients are responsible for information sharing between their care team, yet they don't have the medical expertise to do so effectively.
Or, the fact that there isn't a way to contact a doctor with a simple question. There is a cost and time burden associated with always having to see a doctor in a doctor's office, or worse, having to head to the emergency room for an after-hours visit if the ailment is relatively minor.
And, to top it off, the patient is not privy to vital price information before heading through the doctor's door, having to make their medical decisions in a vacuum with no indication of how it will impact their budget.
However, this disconnect is starting to be resolved in the health care space. The technology exists, now it's time to utilize it.
Here's three ways that the health care industry is getting 'connected':
Harnessing Health Information – Connecting Care Teams
Most health systems and doctor's offices have incorporated digital health records and online systems to access medical results. Sharing critical information such as medical history, test results and previous treatment plans across the entire care team reduces unnecessary tests, and leads to faster, more accurate diagnoses – which also saves time and money.
This increased interconnectivity between the care team helps ensure that nothing is lost in translation and reduces the burden on the patient.
Not only is technology creating opportunities for doctor's to collaborate in the treatment of their patients but also in relation to medicine as a whole. Web sites such as Sermo and Doximity are secure online communities where providers can post questions and collaborate about clinical issues. As the saying goes, two heads are always better than one.
Making Health Care Easy and Accessible – Connecting Providers and Patients
Many providers are now giving patients more connectivity to their care team through online websites or mobile apps. Patients can securely message physicians across the network with health questions and get a speedy response, even after hours. This is especially crucial for patients who suffer from chronic conditions such as heart disease, cancer or diabetes – as more than half of all Michiganders do.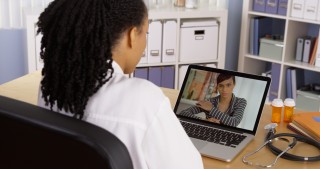 Telemedicine is another recent offering making it easier to get in touch with a doctor  quickly. Through an e-visit or virtual visit system, patients can "see" a health care professional about a medical concern 24/7 and avoid an unnecessary trip to the urgent care or ER in non-emergency situations.
It's All About the Numbers – Connecting Providers and Insurance Companies
Receiving health care services costs money. This is something that we are all aware of but until recently, these numbers were not available to the consumer prior to receiving care.
Today, more and more providers and health insurance companies are working together to pull back the curtain on health care information including quality and cost. Now, thanks to services such as Healthcare Bluebook, patients are able to research 'fair' prices for their procedures ahead of time. Surprisingly, prices for services such as an MRI can vary by hundreds, even thousands, of dollars – with no proven difference in quality – depending on the facility.
Taking it even further, health insurance companies are beginning to offer tools that can estimate the actual amount that the member will pay for their health care service based on their plan's deductible, co-pay and co-insurance values.
It's clear the technology is available and more and more of these advancements will begin to override obsolete health care processes. By increasing connectivity the health care industry will become more efficient and most importantly, provide patients with more efficient and effective care.