Aging is commonly associated with a number of different health complications, from the flu to arthritis. While there are many healthy precautions that senior populations can take, there remains one risk that they should look out for: loneliness.
According to a 2019 report from the University of Michigan's National Poll on Healthy Aging, one in three seniors feel lonely.  Per the report: "Research shows that chronic loneliness can impact older adults' memory, physical well-being, mental health, and life expectancy."
Companionship is incredibly important for our elderly loved ones. If you have an aging friend or relative, or if you yourself are a senior, you may want to consider hiring a companion care service. Many insurance providers are now covering the cost of this service as part of Medicare plans. For example, Priority Health offers several hours a month of companion care on select Priority Health Medicare plans. With this helpful service increasingly being included in many plans, there's no better time to talk about the benefits of regular companion care.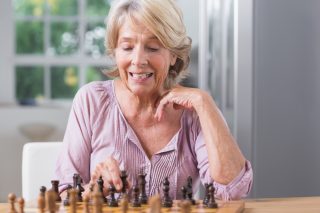 What is companion care?
Companion care, like the services offered by Priority Health partner Papa, is meant to provide emotional support and companionship for seniors. It also includes services to help make life more manageable including transportation, grocery shopping, light housework and more. If you're a qualifying Priority Health Medicare member, for instance, you'll be set up with a companion caretaker through our partner service and, for a few hours a month, your companion will be available to help you with your most important needs.
How does companion care improve health? 
There are many ways in which companion care can help seniors live healthier. Take nutrition, for example. Without access to regular transportation, some isolated seniors find themselves eating poorly simply because they have no way to access fresh, nutritional meals. With a regular caretaker, your loved one can get to the grocery store and help prepare nutritious home-cooked meals.
Nutrition aside, companion care also provides the obvious: companionship.
The National Poll on Healthy Aging reports that "chronic loneliness may shorten life expectancy even more than being overweight or sedentary, and just as much as smoking."
Simply having a companion improves your health on its own, but this is especially true for those who already experience health issues. A companion caretaker lessens these outcomes by being a consistent source of social interaction and providing transportation opportunities so lonely seniors can get out of the house.
If you or a loved one struggles with isolation or loneliness as a senior, look into companion care. If you're a Priority Health Medicare member, check your benefits to see if companion care through Papa is available as part of your plan. You can also call the number on the back of your member ID card to ask if you qualify for this care. Not a Priority Health member? Ask your Medicare plan provider about available companion care options.