Known as the "unofficial end of summer," Labor Day is the last long weekend of a favorite Michigan season. And while it's important to celebrate your hard work with a day off, it's just as important to recognize work-life balance and find ways to ensure you're not overworked year-round. Since work-life balance plays such a large role in every employee's well-being, Labor Day is a chance to pause and reflect on the year so far. Many take this day to help fix up the house or yard, get ready to send the kids back to school (whatever that might look like this year with COVID-19) or get in that last weekend of camping or beach time. Work-life balance is an important factor in maintaining your health and well-being, and Labor Day gives us an added work-life benefit if you're lucky enough to have a day off for the holiday. If you're struggling with work-life balance, remember the following considerations and see if they can help bring more balance—and less stress.
The work-life balancing act
Don't overwork it. Remember that better overall well-being stems from the right balance of work and home life. That's why those who separate work life from home life face less exhaustion and maintain better well-being. However, it can be a challenge in today's "always-on" culture, with employees more connected than ever before to their devices and email. And in 2020, COVID-19 has many working at home as their primary location more than ever. In the past decade, studies show that roughly 90% of U.S. employees feel they struggle with work-life balance. Take an inventory of your current work-life situation and see if there's room in your schedule for more alone or family time. And if you're struggling with working from home, feeling more like you're "living at work," try these helpful tips.
Sleep tight(er) with less stress
Those with higher stress levels are at higher risk of developing sleeping problems. Studies have shown that increased stress not only messes with your amount of sleep you get each night, but also the quality of sleep you're getting. It can even lead to insomnia, a series sleeping disorder that affects many Americans. The good news is, there's a series of sleep and relaxation exercises you can do before bed to promote better rest. And if stress from COVID-19 concerns has you extra stressed, here are five tips to help.
Working from home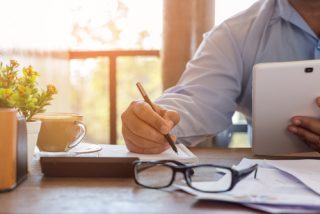 Even before the pandemic hit this year, many companies were already creating remote workplace cultures, where employees are allowed—and even encouraged—to work from home. While working from home may seem like a strange solution to improving the separation of work and home, it's known to be highly effective in both performance and well-being. Think about skipping that commute, getting home earlier, working in your favorite chair or going or going for a nice, sunny walk with your dog after a homemade lunch. Lower stress levels, extra time for self-care and improved mental health are all proven benefits of working remotely or from home. If your home isn't set up with office space or is too distracting, a nearby coffee shop or university campus with workspaces are alternative options, provided they are open and implementing safe social distancing. Look for lots of natural light and of course, comfy seating arrangements. Ask your employer about your company's remote working policy and see if it works for you.
Labor Day became a federal holiday in 1894—designated the first Monday of September. Today, the holiday coincides with a busy back-to-school season, which can increase stress. That's why some simply use their Monday off to forget the hustle and bustle of sending the kids back to busy school schedules and enjoy a relaxing day. Take the time to get in a good run or yoga session.
However you spend your Labor Day, remember to relax and enjoy yourself. Celebrate fellow employees across the country helping the nation's well-being while enhancing well-being of your own.
For more ideas to live with well-being in mind, Priority Health members can check the Wellbeing Hub to see which activities or programs are right for them based on their health plan. Not a member? Talk to your health insurance provider to see what programs they offer to support your health and well-being goals.