By: Angie Chandler, NBC-HWC, NASM-CPT, FLT-vLE
It's easy to get swept up in the whirlwind of simultaneous fall activities. From endless back-to-school to-do lists to an increase in work projects, September can mark the end of summer and the beginning of a stressful season for many.
Create your personalized "contingency" plan for a smooth fall season using my six favorite stress-busting tips. Let these "grab-n-go" strategies help you lock in a mindset of positivity with a splash of confidence—so you can avoid stress and enjoy the autumn season instead.
1. Put Time in Perspective.

Remember that this time of the year is short-lived. You will get through it. You can do anything for a minute, right? When tension is high, press "pause" to breathe and think about the fact that "this too shall pass." There is a beginning, middle and end to everything—including stressful fall situations.
2. Know Yourself.

Not everyone handles their stress in the same way. Each member of the family will have their own triggers and their own way of dealing with pressures from within themselves, as well as external influences. Honoring the perception of others may help bring harmony into the household. Stress becomes manageable when we know ourselves and make a plan—and a goal for how we will be in it.
3. Push Pause.

Slow down long enough to build a weekly roadmap. Planning ahead one week at a time around expectations and mandatory events, right down to the food you will eat, gives structure. Specifics, such as bedtime and what's for dinner, will send a message of stability. Take a moment today to visualize, based on your values, what a successful day looks like and how you want to feel at the end of it. Define and clarify what is needed to keep on top of requirements for the family. Decide what action steps are needed by each family member for this vision to come to life. This will keep overload to a minimum this fall.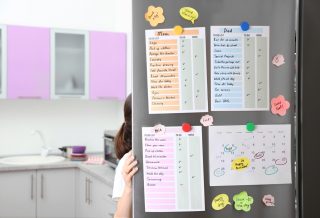 Roadmap strategies:  Calendars, lists, time-boxing and bullet journaling can expedite a plan in no time to get those ideas out of your head and onto paper. Have a large family calendar, bulletin board or whiteboard placed where all can view the upcoming plan for the week. Connecting the dots for all involved shows everyone in the household a system and prevents fragmented communication. If your household prefers digital to paper, try an integrated family online calendar or an app that includes a calendar with notifications (there are so many to choose from now). Test and try a few methods until you find the one that works for your crew.
4. Keep it Tidy.

Putting things away and knowing where they are is a simple system that will keep stress at bay. There's no need to waste time looking for car keys or the socks that match the outfit. The saying "a place for everything, and everything in its place" can keep mornings running smoothly. Healthy habits include either setting out tomorrow's outfit, backpack or workout gear—or making sure the night before that things are put away after you've used them and fresh, folded laundry is in its place.
Restructure mindset:  "I can do anything for 10 minutes" may become your mantra during busy months. What you focus on EXPANDS so you want to make it positive!
Reevaluate priorities:  When the going gets tough, by all means get physical by making workouts simple, effective and close to home. Put the self-care activities at the top of the list as these can quickly drop to the bottom.
5. When There is No Time—Make Some.

Time itself cannot be managed; we can only manage ourselves in the 24 hours given each day. Therefore, organizing our time is essential to keeping our days flowing while feeling accomplished by the end of each.
Look for time gaps in the calendar and block time for breaks as needed.
Plan ahead with specifics such as location, driving time, etc.
Communicate clearly to all involved (those shared family calendars work well).
Take action—prioritize and remove slots if your day is feeling too full.
6. Bolster Your Support System.

This may be your neighbor, friend or family member who is willing to become an extension of you for the month. Reach out to them. Have a list ready with names of people you can count on in a pinch. Engage in discussion about reciprocating. Choose the people, places or things you can trust and that will support you. The busyness of the back-to-school buzz, work expectations and keeping a clean home doesn't have to be on you alone. Recruit some help so you can focus on the important things in life. Think about what worked in the past when it came to "being in two places at one time." Perhaps it's a chance to divide and conquer.
You might even consider investing in temporary help for the time being to alleviate self induced pressure, such as hiring a tutor to help your child with school if they are at home attending virtually, or paying for personal training.
There is no going back now that summer is over and fall is here. And autumn leads into a busy holiday season as the year wraps up. So now is a good time to try these six strategies so you can focus on enjoying the season—instead of letting the season stress you out.
About the Author: Angela Chandler, NBC-HWC, NASM-CPT, FLT-vLE is a health coach in Priority Health's Wellness Department and has been a ThinkHealth byline author for 5 years. She holds the 2017 National Board-certification for Health and Wellness Coaches and has worked as a wellcoaches®-certified Health and Wellness professional coach for 8 years.  Angie has been a National Academy of Sports Medicine-certified personal trainer for 25 years, and a Firstline Therapy®-lifestyle educator for 8 years. Her professional experiences continue to fuel her passion for writing health and wellness content. Prior to Priority Health, she worked at EHAC, The MAC, and CHCC in Grand Rapids. Angie partners with people in a positive, respectful, non-judgmental and playful way that brings out their best and generates inspiration.