Running is one of the hardest activities to adopt. Typically, people love it once it becomes a routine, but getting there can be a challenge.
Zombies, Run! is a revolutionary way to start and continue a running routine, while keeping things interesting. The idea behind the app is an immersive running game where your real-life runs are tracked as you try to advance your character in your very own zombie adventure story. With more than one million players around the world, the game is the largest smartphone fitness game to date.
Background
The game is set in a world where you play a hero going on missions and avoiding zombies. In the game, you are running to one of the last safe spots since all other areas have been overrun by zombies. On your way, you must gather supplies, rescue survivors and defend your home. Collecting supplies is done automatically as you run so you can focus on listening to the story and running, rather than having to stop and interact with it on your phone.
The app allows you to listen to your music through the app, and when you have mission instructions, they are spoken through your headphones. When you get chased by zombies in the game, you then have to speed up your pace in real life.
How it works
Upon first opening the app, the user is greeted with a short introduction to the game's story and prompted to register with an account. You'll then see that there are tabs for home, missions, base, codex and more.
The home tab provides information about the latest updates and additions to the story.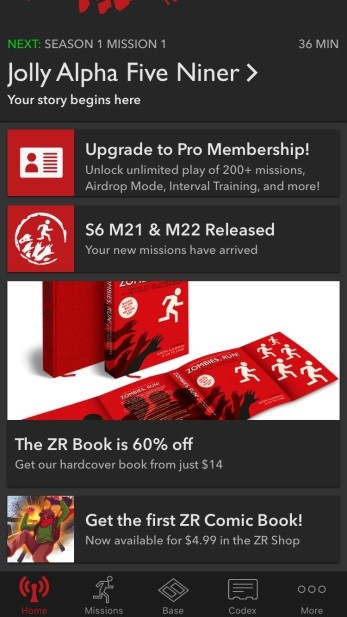 Missions shows updates, such as training plans, airdrops, supplies and interval training.
Base is what you create with the items that you acquire during your missions.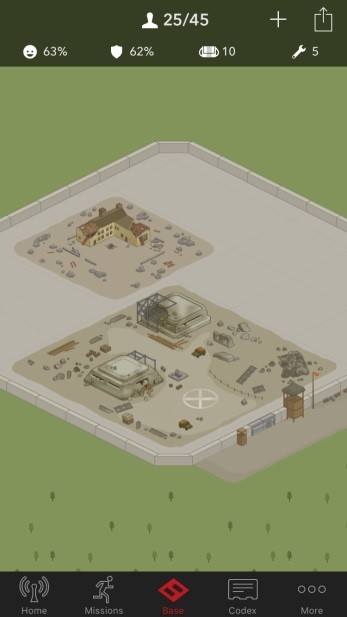 Codex is where users are able to see their achievements, artifacts collected during missions and supplies that they have picked up.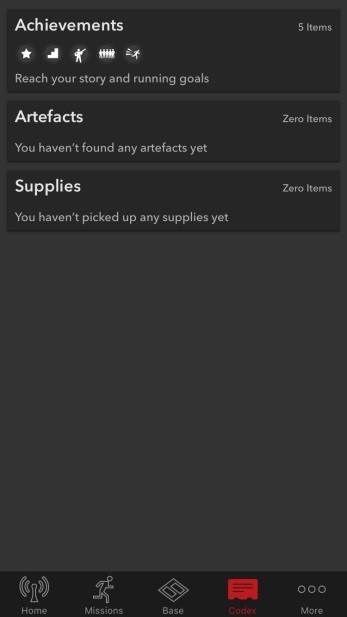 The Zombies, Run! App is not only a great motivator for exercise, but it also helps make running more fun by allowing you to immerse yourself in the story and the completion of a task. So whether you're looking to get into running or want to make your current running routine more interesting, give Zombies, Run! a try.