By Angie Chandler, NBC-HWC, NASM-CPT, FLT-vLE
While physical distancing for the elderly is critical right now during the COVID-19 pandemic, emotional distancing doesn't have to be. Our seniors need connection with loved ones more than ever to stay encouraged during this challenging year.
Here are some helpful ways to positively impact the life of a senior who is staying home (or in a community) this holiday season.
1. Say hello through the window.
It's not as ideal as a hug and an in-home visit, but it gives seniors a chance to see their loved ones up close and in real life—especially the little ones. So rather than enter their home or building, bundle up the family and stay outside to talk face-to-face through the glass and by phone. If it's to celebrate a birthday or other holiday, consider fun hats and colorful cards to display, sing or play songs—even bring a small gift to leave behind for them to bring inside and enjoy later. Pick something special to pamper them—whether a favorite treat or something fun to pass the time. Along with your loved one, other seniors or neighbors in the community may enjoy a parade by their windows as well to spark a little extra joy in everyone's day. Before dropping by for a window visit, be sure to take these steps:
Call ahead and ask your loved one if they would like to have some company.  Explain to them (if memory is a concern) that you will be visiting from outside where they can still see you, yet talking by telephone so they can hear you speak.
Call the facility ahead of time to inform them of your plan or idea to visit. They may or may not allow this. This can sometimes be upsetting, so you'll want clearance from the director and staff. Since we are not with them daily, we may not be aware of that, so DO let them know.
If allowed, ask a helper or aide to assist your loved one in opening the blinds and getting them situated comfortably near the phone.
Make a plan for the day and time and stick to it. Consistency is important. If your plan changes, be sure to call and communicate to all that you'd like to reschedule.
Keep it short, light, and fun. Bring your puppy or children so your loved one can see them, too!
2. Enjoy a virtual coffee chat with extras.
Using Zoom, Facetime, Skype, Facebook Messenger or whatever your favorite video call platform may be, you can still have face-to-face gatherings online. Many senior communities are assisting residents with smart phones, tablets or laptops. If your senior is still at home, you may need to "coach" by phone to help get them set up, but it is worth the effort. If your senior loved one doesn't have a device to support video calls, consider gifting them a device for the holidays that will make this possible. These chats are a fun way to gather and share the latest family news together, in real time. Make it extra festive with holiday decorations, music, a warm mug of coffee, tea or hot cocoa and snacks. You can share some of your family's favorite holiday recipes or holiday memories. Some families are getting even more creative cooking together, sharing holiday videos or photos from years past, or singing favorite songs together.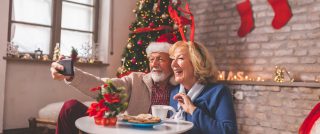 3. Send flowers or something green to brighten their space.
With a few clicks online, you can ship something blooming or green to your loved one, or pick up to support a local small business and deliver in person without contact. Try cheery flowers, or for a lasting benefit—a plant they can nurture and enjoy watching grow during the colder winter months. There are many health benefits to having green plants in your living space, and your senior will appreciate the beauty of whatever you gift them. If you know they don't have a green thumb, no worries. There are many plants (like succulents) that require little to no effort all while providing the same positive benefits to their living space.
4. Send snail mail full of love and surprises.
It can be a greeting card, a handmade craft from one of the kids or a handwritten note with words of joy and encouragement. Step up your delivery with favorite treats or small gifts. Whatever you stamp and send, don't discredit snail mail—it's made a major comeback in 2020. Many seniors find receiving post cards or handwritten letters nostalgic and heartfelt—and love to display colorful cards and art projects from the grandkids in their living area. If you have a tech-savvy senior, and want to save on paper and postage, try a free or low-cost digital or e-card delivery.
5. Do virtual activities together.
There are some great games that allow for more than one player in different locations—like online bingo, trivia or even karaoke. Bring some fun to your senior and the whole family—get the kids involved, too. Family trivia is always a blast. Try these free, fun trivia questions that cover a variety of interesting and lighthearted subjects. Make it extra fun by coming up with funny team names and offering special prizes to the winning player or team. If your elderly family member loves card games or another favorite family game, set up a video call to play together online. You could also try creating a virtual book club together, or learning something new such as a new language or skill together virtually.
6. Let the kids take over the texting.
Getting a text from grandchildren or other little ones is a delight for any senior! Have the kids send video and photo texts daily or weekly to keep in touch. Use funny filters, or have the kids share their latest school projects or more about their latest hobby. Encourage them to learn more about their ancestors by asking Grandpa or Grandma or great aunts and uncles what their favorite family memories are—from vacations to holidays to their funniest memories of growing up. Encourage them to share stories of challenges too, to show resilience and how they made it through tough times of decades past—showing the little ones we can make it through this pandemic together. Allow both young and old to share the adjustments we are all going through, to help everyone feel like they are in this together.
7. Share favorite family recipes and enjoy them together.
No matter where you are, a common experience that brings people of all ages together is food. So, make this holiday season a throwback blast from the past and commit to cooking your family's most famous recipes. Does Grandma have a pie crust that everyone raves about? What about Grandpa's secret ham prep method? Share your best holiday recipes across the generations, and find a way to create a virtual or printed family cookbook so all of your kin can keep cooking family favorites for years to come. Kick it up even more by setting up a virtual video chat to cook together or for live advice from your elderly loved one while you prep. Drop off completed meals at your senior family member's home if they are not feeling up to cooking to share in your culinary delights. Try these simple holiday recipe swaps to make healthier versions of your family favorites. You might all learn something new while cooking and sharing food together.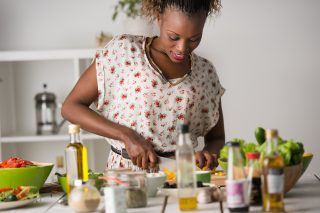 8. Ask your seniors to share their favorite talents.
Maybe it's professional level knitting or crocheting, or painting, cooking or a secret chess or Cribbage strategy to win every time. Chances are—your elderly loved ones have a talent or hobby they are passionate about and have spent many years perfecting. Ask them to set up virtual lessons with you, the kids or the whole family. This could be a great option if you are in need of something new for the kids to learn while they are attending school virtually from home. You'll be surprised what you can learn from their decades of experience—and they may ask you to reciprocate to learn something new as well. Take it up a notch by scheduling a virtual family talent show and award prizes to first, second and third place.
9. Kick off a kindness train to help others.
Leading with kindness could turn a brief visit with your senior into a time of helpful solutions. Ask this question — "Is there anything you really need help with right now?" You might be surprised what answers pop up, and it could even be for one of their own community friends or someone else in the family instead of themselves. Step into your loved ones shoes for a minute and notice was they may be going through right now.
Maybe someone is short on meals or household supplies when others have plenty to spare. Maybe your loved one wants ton shop for gifts for the grandkids but is afraid to go to the store. Kids may need some ideas to stay busy or active while missing their school, friends and sports. Teens might be willing to help elderly family members rake leaves, shovel snow, grocery shop or do some housework for a little extra spending money for the holidays. Listen to their concerns and come up with ways to help together.
If more serious issues with mental health come up, you can direct your loved ones to so many available resources virtually, and statewide. Remember that kindness is good for everyone's wellbeing—young and old. If no immediate needs arise during your visit, consider setting up a community cause you can all contribute to as a family this holiday season. Giving is also good for your health. Find ideas to safely give back during COVID-19 here.
Although social isolation in senior communities is not new, the COVID-19 pandemic has elevated this concern. Make the time to make your elderly loved ones feel special during this time of loneliness. Everyone in the family will benefit.
About the Author: Angela Chandler, NBC-HWC, NASM-CPT, FLT-vLE is a health coach in Priority Health's Wellness Department and has been a ThinkHealth byline author for 5 years. She holds the 2017 National Board-certification for Health and Wellness Coaches and has worked as a wellcoaches®-certified Health and Wellness professional coach for 8 years. Angie has been a National Academy of Sports Medicine-certified personal trainer for 25 years, and a Firstline Therapy®-lifestyle educator for 8 years. Her professional experiences continue to fuel her passion for writing health and wellness content. Prior to Priority Health, she worked at EHAC, The MAC, and CHCC in Grand Rapids. Angie partners with people in a positive, respectful, non-judgmental and playful way that brings out their best and generates inspiration.