Eating healthy can often feel more expensive than value menu items from the fast food drive thru. But consistently having foods that are good for you on hand doesn't have to break the bank—and it starts in your own home with smart shopping and a little planning. Here are some top tips to save money while stocking your fridge, freezer and pantry with nutritious foods:
Buy local, buy in season.
Fruits and veggies that are local or in season tend to be less expensive. For fall recipes in Michigan, this means apples, parsnips, butternut squash, sweet potatoes and pumpkin. Our monthly "Veggie Tales" series can give you great ideas for how to use Michigan's seasonal veggies every month of the year.
Frozen or canned works too.
If fresh is still too expensive, frozen or canned fruits and vegetables can still provide important nutrients you need. Try frozen fruit mixed with Greek yogurt and juice for easy smoothies. These make-ahead packs can help you prep for the whole week at once. And canned veggies shouldn't make you cringe. The key is to add flavoring and other healthy ingredients to elevate the recipe. Here are 10 healthy ways to incorporate them into easy recipes.
Choose egg-cellent protein.

Eggs are affordable and a great source of protein. Plus, they can be cooked up in a variety of ways. Buy a few dozen when they're on sale at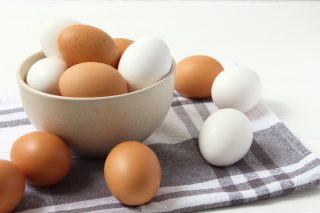 your local store and prep some freezer staples for a grab-and-go breakfast or family favorite breakfast for dinner. We love these easy freezer breakfast sandwiches or these delicious super food breakfast roll-ups.
Smaller isn't always cheaper.
The large cartons of plain yogurt are usually less expensive than smaller single serving sizes. You can stir in some fruit (fresh, frozen or canned) or even a bit of jam to add some sweetness. Use up the yogurt before it expires in your smoothies, or even add some affordable oatmeal and fruit to make these protein-packed mason jar breakfast parfaits. They're tasty, easy to prep and will keep your family eating healthy all week long.
Shop the sales.
Buy your favorite healthy foods when they're on sale. But be careful to not buy a bunch of things you're not likely to use. Check your local store for sales and specials as you plan upcoming meals. Are canned beans, lentils or tomatoes on sale 10 for $10? All three of these ingredients can be a great source of protein and iron for soups, salads and sides.
Plan your meals (and snacks).
Plan not only your weekly meals on a monthly or weekly calendar, but also your daily snacks as well. Have kids? Invite them to help out so they can give honest input about what they'll actually eat. Here are some great meal planning tips from a professional registered dietitian.
Stock up on whole grains.
Whenever they're on sale—grab your favorite whole grain breads, tortillas, whole wheat pasta and brown rice. Bonus—you can freeze whatever you won't use right away. This will supply you with the staples you need for cheap and easy meals always on standby. Oatmeal (not instant) and whole grain cereals are always a great way to start the day and are regularly on sale. Here are 5 easy ways to incorporate more whole grains into your diet—yummy recipes included.
Buy proteins in bulk.

Many grocery and wholesale stores offer discounted pricing on larger packages or "family packs" of chicken, fish filets, turkey burgers and more. If you don't have a full house you're feeding each week, you can still save this way by using freezer bags to divide the bulk package into the smaller portion size you need for each meal.
Remember to always rely on your freezer to reduce waste and save cash. Along with the freezing tips for individual ingredients mentioned above, you can also use your freezer to store fully cooked meals from soup and chili to burritos and pasta dishes. If you have a smaller household to feed and make a large batch of a recipe, freeze it to bring back into your menu rotation a few weeks later when the meal will feel fresh again. Just mark your bag or airtight container with an expiration date of about three months from the date you freeze, so you can enjoy that dish while it's still in its prime.