Employee engagement plays a large role in the effectiveness of your company's health benefits. From fighting costs, to enhancing health, to establishing a workplace culture of wellbeing—the more engaged your employees are in their care, the better. If you're looking to ramp up engagement among your employees, we've put together the following five ways you might start to build on your plan.
Health Coaching
One way employers are ramping up efforts in employee health engagement is through the use of health coaches. Either in person (onsite) or virtually, employees can take advantage of licensed professionals committed to helping them meet their personal health goals. This service comes in handy especially for employees with costly chronic conditions, since working with a health coach can help manage and mitigate chronic conditions—along with the high costs associated with complex care. Health coaching spurs engagement and creates accountability, which is proven to keep employees engaged.
Wellness Programs
What employee engagement tactic varies in size, scope and sometimes success? That's right—wellness programs. While most wellness programs promote better health and help keep employees active, fit and happy—it's best to really understand your population's health to determine which program will best serve your employees. Work with your insurance company to establish which will be right for you, based on past claims data and current trends in care. Wellbeing goes beyond physical fitness to include areas like mental health, financial health—even environmental and social health. Many businesses are even finding that these wellness offerings can help with employee retention.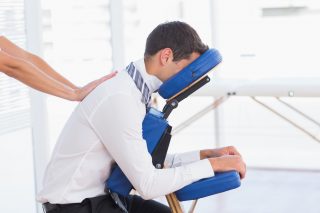 Preventive Care
While free preventive care has become commonplace among most of the larger health insurance companies, are you communicating this available option to your employees? If they know that care like annual checkups, annual flu shots and other preventive procedures are free as part of their benefits, you can bet they'll be more likely to stay engaged all year, every year. Check with your insurance company to see which preventive care options are included in your plan, then plan to tell your employees early and often for added engagement.
Personalized Health Solutions
More and more, personalization is becoming a key factor in health and wellness, along with benefits packages and how employees might interact with them. Many insurance companies are offering a more personalized approach for employer groups and their employees, particularly in online wellness solutions. Since each employee has his or her own unique health needs, many solutions go digital to curate a better care experience. At Priority Health, we offer "wellbeing for all," through our Wellbeing Hub, an online experience that's personalized to each employee's health needs. Our Wellbeing Hub helps employees stay engaged, from fitness and weight loss to smoking cessation and beyond.
Predictive Analytics
There are many benefits when it comes to data and reporting to understand the total cost of care and identify ways to save. One benefit is using predictive behavior to keep employees engaged at the right time, in the right place. After all, if your insurance company can help you pinpoint how many people visited the ER last month for conditions that could have been handled online or at an urgent care location, they can also help you reach those employees to help them understand where best to receive care the next time. Ultimately, these communications will keep health top-of-mind and help keep costs down.
Remember, get to know your employees' overall health before you implement additional engagement techniques, as it can really dictate which direction to try first. However, with universal trends like personalization and an abundance of wellness program offerings, creating a more engaged (and ultimately healthier) workplace culture should be easy. If you'd like to learn more, contact your health insurance company and see what's available to you and your workforce to promote engagement.
Interested in learning more about what Priority Health offers for Michigan businesses? Find out here.