If you have food allergies, or just want to eat healthy, a simple trip to the grocery store can feel stressful. With so many options available, it is challenging to decide what product is best for you and your family.
Wouldn't it be great if you could bring a nutritionist along with you to consult?
ShopWell, an app for both Android and Apple, could be your next best option.
The app takes your food preferences, allergies and/or goals and recommends the best choices for you based on those specifications. You can also build shopping lists using your preferred foods. The app then optimizes that list by swapping out some of your chosen items for healthier ones.
Setting up your preferences
After installing the ShopWell app, you will be asked a series of questions. This is where you can indicate if you're allergic to peanuts, gluten, milk or other common allergens. It will also ask questions about what you want to shop for. For example: are you shopping for general health, weight management, athletic training, or a healthy pregnancy?  
If you suffer from a chronic disease, the ShopWell app takes that into account as well, asking if you are managing high-blood pressure, pre-diabetes, high cholesterol, etc.
ShopWell can also be used for every member of the family. Within the main account, you can add as many family members as you like, tailoring their food preferences to their individual needs.
The food library
Under the browse button of the home screen, there's a food library with every type of food imaginable. For example, you can choose the category "Pasta & Rice" and under that category, it's broken down by canned pasta, pasta meals, pasta salads and more. Once you refine what you're looking for, the app rates your selections based on your preferences.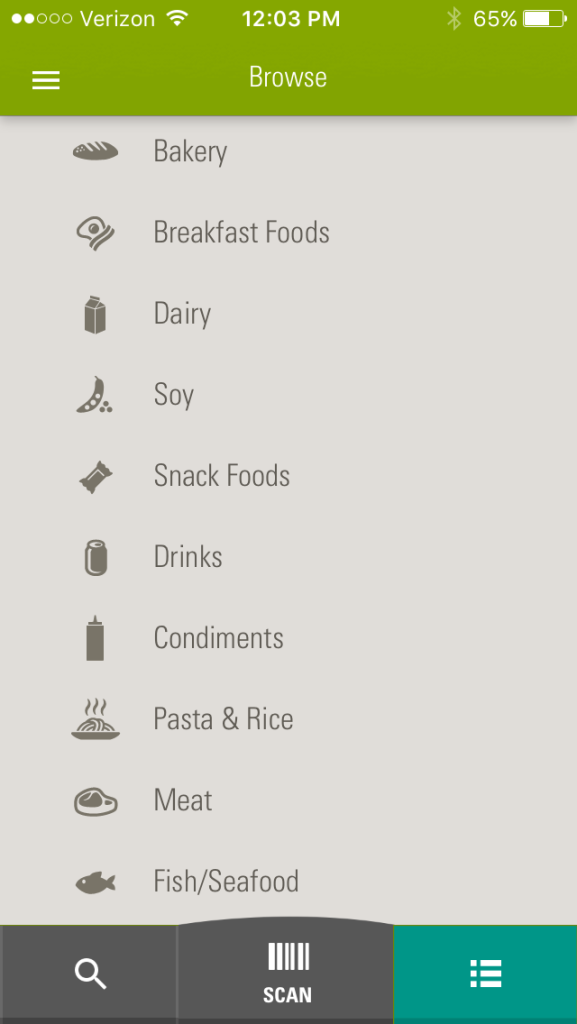 Each product will be displayed with a green, yellow or red circle with a number inside of it. Green indicates the item is a strong match based on your specifications, yellow represents medium and red means it's a weak match. The numbers associated with each item ranks how closely it fits with what your preferences are. The higher the number given to a product, the more that food fits within your specifications.
Strong match

: Green circle, 70 – 100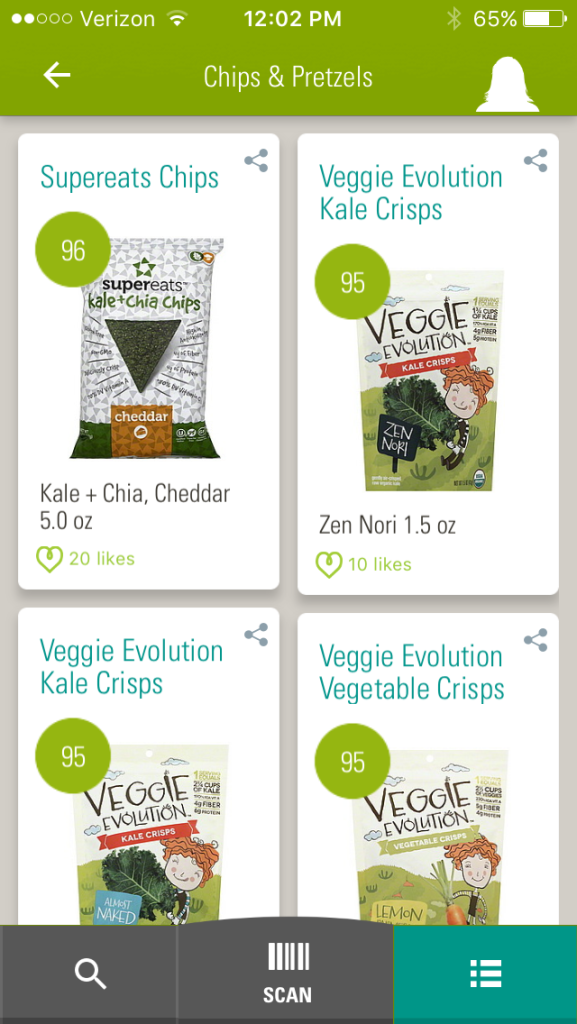 Medium match

: Yellow circle, 40 – 69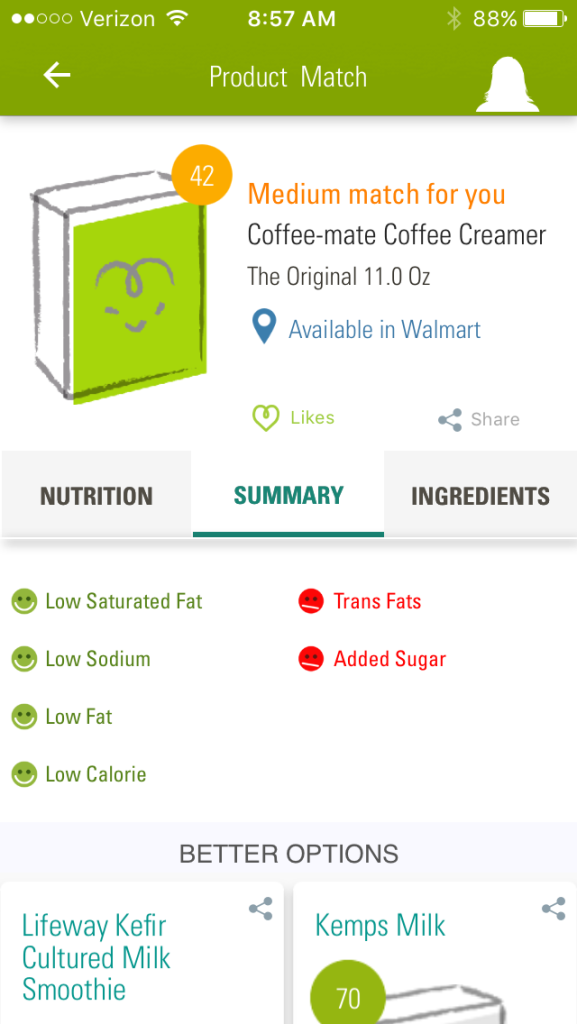 Weak match

:  Red circle, 1 – 39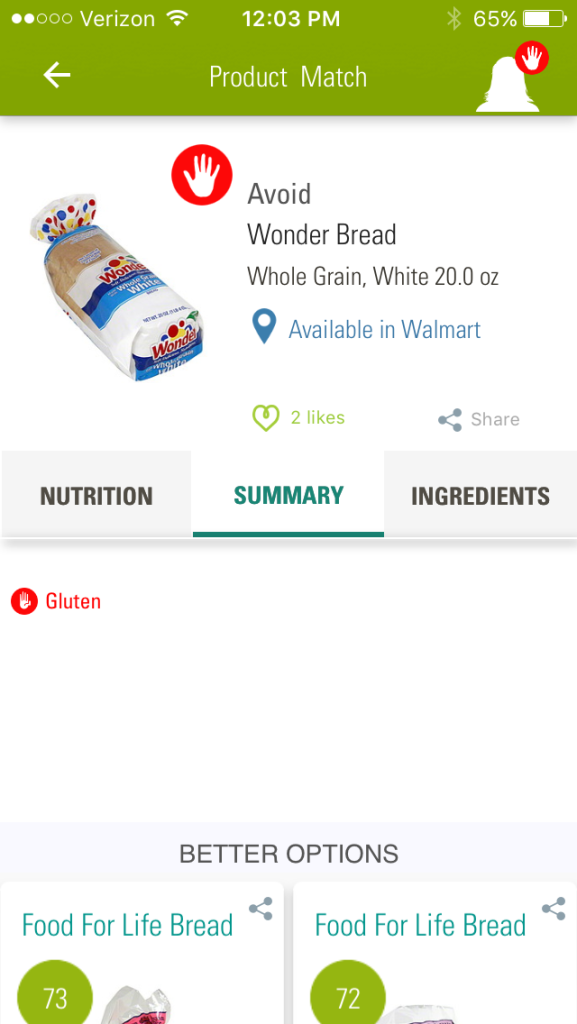 Every food listing within the app will give a short summary of the item, nutritional facts and ingredients. If applicable, the app will identify a healthier option that you can swap out.
Shopping at the store
Where the ShopWell app really shines is at the grocery store. The app has a barcode scanner built in so you can scan any item in the grocery store to see how it aligns with your food goals or allergies. If you like, you can scan every item you normally buy and then purchase the healthier, green items for a completely tailored – and healthy – grocery shopping excursion.
A nutritionist in your pocket
If you've been looking for a healthy way to navigate the grocery store based on your personal goals and lifestyle, ShopWell can act as a personal nutritionist. And as an added bonus, the app has a number of other features such as daily challenges, health tips, achievements, a running log of your grocery purchases and more.