By Rebecca Mason, RDN
The hustle and bustle of the holidays is here. We find our calendars loaded with parties, potlucks, family events, holiday merriment—suddenly the "most wonderful time of the year" is wonderfully stressful and emotionally draining. Many employers focus on physical wellbeing during the holidays, but during the gift-giving season—don't forget to give your employees ways to improve emotional wellbeing.
What is emotional wellbeing?
According to the U.S. surgeon general, "mental and emotional wellbeing are essential to overall health." Having stable mental health helps individuals manage stress, realize their potential and contribute to their communities in a positive way. Conversely—poor mental health, often demonstrated as anxiety or other mood disorders, is associated with increased risk of chronic health conditions and unhealthy behaviors, like obesity, cardiovascular disease, diabetes, violence, alcohol use and smoking.
Why does it matter in the workplace?
A shift from focusing on physical wellbeing (which tends to be the primary focus as it's far easier to measure over time with biometrics) and towards emotional wellbeing may not seem as fruitful of an endeavor. However, emotionally healthy employees are more resilient, able to cope with stress, can manage conflicts with less difficulty and have greater problem-solving abilities. This translates to reduced absenteeism and presenteeism, increased ability to work effectively and better rapport with team members. Increased productivity coupled with happy, engaged and creative employees are essential to the success of an organization. It all boils down to one simple concept: those who feel good about themselves perform better.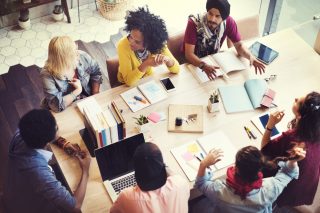 Put emotional wellbeing into practice.
Luckily, the holiday season brings ample opportunities to pursue employee health and wellbeing. Here are 5 simple ways to bring joy (and promote emotional wellbeing) in the workplace:
Promote an attitude of gratitude. Saying "thank you" to your employees doesn't need to be costly. It doesn't need to be a big holiday bonus or a jelly of the month club membership. Recognition for a job well done just needs to be genuine. This could include something as simple as encouraging shout-outs and recognition in meetings, dropping a thank you in a gratitude jar or even running an "attitude of gratitude" challenge. The best part? Saying thank you and building a culture of appreciation is valuable all year round.
Encourage giving the gift of time. The holidays are really all about one thing: making memories with those who matter most. Implement a "gift of time" challenge where participants must give at least 10 minutes of their undivided attention to a loved one each day. Those who complete the challenge successfully could be entered into a drawing for a prize. Remember, time is the one gift that cannot be bought, exchanged or returned.
Do good, feel good. Encourage and organize volunteer opportunities for your team. Volunteering is a great way to give to organizations and promote team building at the same time. Individuals who volunteer report increased mood and self-esteem, and the reason why is interesting: doing good releases feel-good chemicals into your body.
Laugh, smile and be silly. Speaking of feel good chemicals, laughter is a proven way to release endorphins and create a healthy buzz. Think of ways to have fun in the workplace this season. Things like an ugly sweater day, holiday desk decorating contest or a potluck showcasing your family's traditional holiday dishes are all opportunities to build camaraderie and give us reasons to laugh, smile and enjoy the day.
Make sure your health plan covers mental health services. Encourage and promote the use of these resources all year-round.
Above all, remember that when your team is at their best, they are able to share their joy and unique talents with others—that's the real gift.
About the Author: Rebecca Mason, RDN, is a registered dietitian/nutritionist. She is passionate about helping families and individuals improve their health through nutrition education and nutritious food access. Rebecca is certified in adult weight management, and has a background in both clinical nutrition and wellness programming.