Virtual Care: A New Normal
There is no doubt that the COVID-19 pandemic has accelerated the growth of virtual care nationwide. A survey from Accenture states that more than 60% of patients who used virtual care during the pandemic now actually prefer it as their main way of communicating with their provider and managing their health conditions. Virtual care became prevalent and is now becoming a very important resource for consumers because of accessibility and reduced costs. With more and more people using the benefits of the online world, it is important that you review your company's benefits package to ensure employees can take advantage of all that virtual care has to offer.
What is a virtual first health plan?
A virtual first health plan changes the model of how consumers access care. Traditionally consumers would start with a primary care visit, urgent care or emergency room visit. A virtual first model incentivizes consumers to use their virtual care network first for all non-emergent needs, often for $0 out of pocket.
Some patients find that they do not have a strong relationship with their primary care doctor, have difficulty scheduling appointments, experience limited accessibility and desire more personal outreach.  Some of these things are a result of the pandemic as it highlighted these challenges. 32% of adults avoided routine care during the pandemic. Now, employees are left to navigate a system that is complex and in-person care capacity makes accessibility of services challenging.
A virtual-first health plan can offer whole-person care through ongoing relationships with a PCP, 24/7 access to a wide range of care and services, continuous engagement, and cost savings through a new virtual first model. Virtual primary care eliminates the struggle of a fragmented care system and delivers a single virtual care team, on a single platform.
Adding a virtual first plan to your employee benefits package might be a good idea if your company wants to see:
A decrease in absenteeism – due to more convenient access to care.
Connection across a geographically dispersed workforce – virtual care networks can typically be accessed anywhere in the US depending on your virtual care provider partner.
Evolving industry dynamics – with employee retention and attraction being harder than ever, it is important to explore new and innovative benefits to support what your employees want from a benefits package.
Chronic condition management for the many people managing complex conditions that require frequent visits and want a more convenient and consistent option for managing their care.
These benefits leave your employees more digitally engaged, with accessibility to healthcare no matter where they might be, with flexible options, consistent provider relationships for frequent travelers, and care that is easy to navigate and understand.
A virtual-first health plan can cost you less on premiums and claims costs as an employer and provides your employees access to unlimited access to care for little to no cost. When updating benefit packages, consider virtual primary care as an option.
Would a virtual first health plan eliminate my employees' access to in-person care?
Virtual care can help eliminate some in-person visits, but that does not mean your employees will never have to go into the doctor's office ever again. Thus, depending on the plan, a virtual first health model does not mean that in person visits are not covered. In-person care will typically always be available, especially for the emergencies and visits that require it. Virtual care is more for the visits that don't need to be in person.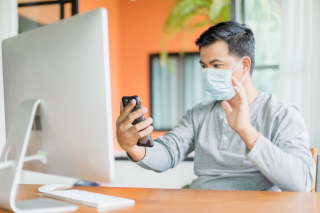 Increase convenience and accessibility, reduce costs
Healthcare consumers often delay necessary care because there is a lack of convenient access, high costs, transportation issues, and other barriers. Virtual care aims to help remove these barriers by offering access to virtual visits right from home, typically faster than an in-person appointment. Not only is virtual care available 100% of the time, but there is more access to services than ever before. Services like primary care, mental health, chronic condition treatment, and more can all be performed virtually in a way that is more personable and available than just the urgent care option.
Many virtual first plans feature low or no cost for virtual appointments and with more services able to be treated virtually, a lot of a consumer's typical care can be done for low or no cost. Employees save on out-of-pocket costs and employers get increased management care and reduction in care delays which all leads to healthier employees, lower absenteeism, and even lower claims costs.
As a leader in health care innovation, Priority Health offers Michigan employers virtual-first health plans through Virtual Care Partners. Explore your options  to take the best care of your employees and increase satisfaction.