It's October, and that means fall foods are in full effect. Like the leaves changing on the trees, these fresh foods come with the colors of fall.  And, while many of the following aren't technically veggies (several are fruits or gourds) that's okay—they're all found in the produce section and they're all great. With all of that in mind, we're spotlighting the big four fall vegetables (or fruits or gourds) with festive orange, green and brown hues.
Pumpkins
Some call them great, some call them jolly, but pumpkins live up to their many descriptors because when it comes to fall produce, they're among the most versatile and vitamin-packed. That's right; pumpkins are far from a one-use-only gourd for carving on Halloween. They can be baked, mashed and more. You can even bake pumpkin seeds as a low calorie snack. And, though a pumpkin is by definition a fruit, we'll always recognize it as a festive fall vegetable.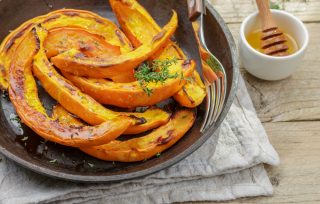 Sweet Potatoes
Sweet potatoes, commonly found on the Thanksgiving dinner table, are both healthy and orange on the inside. Just how healthy are sweet potatoes? They contain anti-cancer, anti-diabetic and anti-inflammatory components, for one. While historically, sweet potatoes are grown in southern states due to their balmier climates, they can be grown successfully here in Michigan as well. Follow this how-to guide if you're thinking of growing your own sweet potatoes for next fall's harvest.
Winter Squash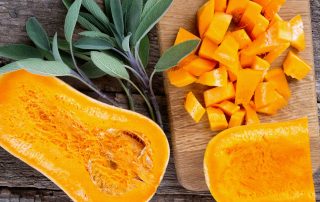 There's perhaps no better fall variety than the lineup of winter squash available to Michiganders. That's right; winter squash is perfect for fall (oh, the irony). Between acorn, butternut, Delicata, Hubbard, pumpkin and spaghetti squashes, there's enough varieties (and colors) to keep your recipes interesting through the season. What's more is these funny-looking fruits (yes, another fall fruit that many categorize as a vegetable) can be beneficial to your health. They're a great source of vitamin C and are great anti-inflammatory foods. If you're curious which squash will please you most, check out this handy guide to all winter squash varieties.
Carrots
Carrots have Michigan roots—literally. They're among the most recognizable root vegetable, with a bright orange colored root and a green, leafy top. Made popular by the likes of a looney cartoon rabbit, carrots are a low calorie treat. They can be enjoyed raw or cooked in a number of dishes, from casseroles to cake. Perhaps the best part about carrots is they're extremely healthy. With roughly 20 calories, nearly zero grams of fat and a big dose of vitamin A per carrot, it's easy to see why many also enjoy them in juices for a nutrition boost. Carrots are harvested between July and November, further forging their fall-friendly status.
Next time you find yourself in the produce section of the grocery store or your local farmers market, place a couple (or all) of these veggies into your cart. Looking for some healthy and delicious fall recipes once you stock up? From Pumpkin Nut Muffins to Butternut Squash Chili, we have some favorites here.