By Rebecca Mason, RDN
Baseball season is in full swing. It's a sport rich in history and tradition—and food. Like our favorite players, our favorite treats (including hot dogs, peanuts and Cracker Jacks) return to the stadium for another exciting season. These traditional snacks are loaded with nostalgia and good memories, but they can pack a serious calorie punch to your diet. Take a healthier approach this baseball season and try one (or all) of these ideas to bring in a home run for your health and wellbeing.
Make your nachos a grand slam.
Who hasn't ordered classic nachos from the concessions stand, only to be handed a platter of round corn chips swimming in orange cheese sauce that comes from a bag? Stir up some serious nacho envy with this fun spin on nachos. Added bonus: This recipe ditches the chips in favor of low-calorie, vitamin C-packed peppers as the vessel for toppings. So crunchy, flavorful and good for you that you'll be stealing your plate like a good base runner steals second.
Think bite-sized.
Some things are just better with the original recipe, so try to focus on better portion control. Serve your friends and family these bite-sized pretzels so everyone can get a taste without filling up. Bonus tip: Serve with a variety of healthy dips, like whole-grain mustard, homemade hummus or guacamole instead of tossing these lovely little morsels in butter.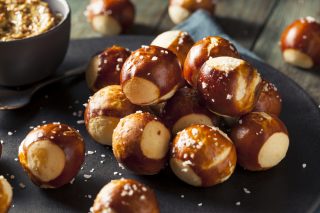 Buy me some peanuts and…homemade caramel corn.
While classic Cracker Jack is forever famous in the lines of "Take Me Out to the Ballgame," the relatively small portion size coupled with multi-serving containers make it easy to overeat, putting you in a real pickle. Try making and pre-portioning homemade caramel corn. This recipe only requires three ingredients. That means you can double the portion size. Not a fan of the sweet stuff? Opt to pop your own popcorn with kernels, olive oil and a light sprinkle of salt to save calories. Make your own and enjoy two cups at only 80 calories. (Note: A small popcorn at the ballpark boasts up to 570 calories!)
Get on base with a sneaky, hot dog impostor.
This creative, vegan spin on hot dogs offers extra veggies and controls your processed meat consumption like the ace on the mound control's his breaking ball. While enjoying an occasional hot dog or sausage is probably ok, studies have shown the regular consumption of processed meat increases your risk of colorectal, prostate and colon cancer.
Hit it out of the park with a frozen treat.
These frozen bananas may not come in a baseball cap cup, but they're just as fun, delicious and far lower in calories and sugar than soft-serve. Plus, you get a serving of high-potassium fruit, which lowers blood pressure and helps preserves bone density. Sweet treats with a nutrition bonus? I call that a win!
About the Author: Rebecca Mason, RD, is a registered dietitian. She is passionate about helping families and individuals improve their health through nutrition education and nutritious food access. Rebecca is certified in adult weight management, and has a background in both clinical nutrition and wellness programming.