By Rebecca Mason, RDN
With spring training behind us, and a home opener ahead, baseball season is in full swing. It's a sport rich in history and tradition—and food. Like our favorite players, our favorite treats (including hot dogs, peanuts and Cracker Jack) return to the stadium for another exciting season. These traditional snacks are loaded with nostalgia and good memories, but they can pack a serious calorie punch to your diet. Take a healthier approach this baseball season and try one (or all) of these ideas to bring in a home run for your health and wellbeing.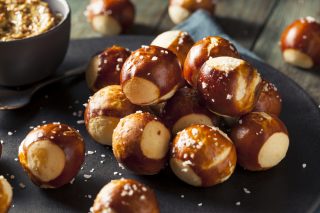 About the Author: Rebecca Mason, RDN, is a registered dietitian/nutritionist and product specialist in the Wellness Department at Priority Health. She is passionate about helping families and individuals improve their health through nutrition education and nutritious food access. Rebecca is certified in adult weight management, and has a background in both clinical nutrition and wellness programming.