How many times have you heard that breakfast is the most important meal of the day? Probably too many times to count. The tough thing is finding the right breakfast option for those busy mornings when you are trying to race out the door. Well, now there's more data on the importance of breakfast, specifically cereal.
A study at the Harvard School of Public Health found that people who eat a diet rich in cereal fiber lived longer than those who ate less healthy options in the morning. Those that ate a fiber-packed breakfast had an overall reduced risk of early death and a lower risk of death due to diabetes and/or cancer. One easy way to ensure your diet contains more fiber is to have it for breakfast.
But not all cereal is created equal.
Many breakfast cereals are low in fiber, loaded with sugar and full of other potentially unhealthy ingredients such as artificial colors and preservatives. Look closely at the labels and ingredients and make sure you're buying a healthy cereal for you and your family.
The top four things to consider when deciding what cereal to grab off the grocery store shelf are:
The cereal should have at least 3 grams of fiber per serving.
It should be low in added sugar (ideally less than 10 grams).
Whole grains should be the first ingredient.
Do you recognize the ingredients? Is it a relatively short list? These questions help ensure that your cereal is devoid of processed ingredients, artificial colors and preservatives.
Worried about sacrificing your favorite cereal? Here are some easy, healthy swaps: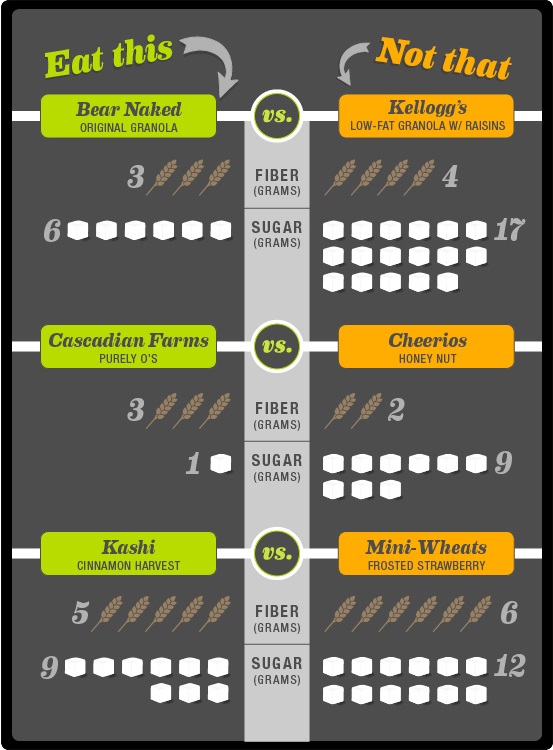 Why choose just one? Stock your pantry with healthy, high-fiber cereal options so you are never bored in the morning. Spice up your morning routine even more by adding fruit, use cereal to give crunch to your yogurt or just bag it up and take it to work for a healthy mid-morning snack.