August is often called the "Sunday" of Michigan summers, when families start gearing up for a busy fall of back to school, after school activities and longer days of full schedules. Though this year may still look different as COVID-19 is still a concern, there's still nothing like a good breakfast to kick off each day. Breakfast kick-starts your metabolism, helping you burn calories throughout the day. It also gives you the energy you need to get things done and helps you focus at work or at school. So even though mornings can be chaotic come September, there are tons of ways to prep ahead of time to make sure you start each day with a healthy, balanced, protein-packed breakfast. Here are our favorites:
1. Opt for oats
From easy overnight oats that take just five minutes to instant oatmeal jars you can simply fill with hot milk or water on a busy morning, oatmeal is a great option if you like to prep ahead. The flavor combinations are endless (berries and dark chocolate? Yes, please.) Oats are among the healthiest grains on earth. They're a gluten-free whole grain and a great source of important vitamins, minerals, fiber and antioxidants. Studies show oatmeal can even help with weight loss, lowering blood sugar levels and reducing risk of heart disease. If you're a "grab and go" type in the morning, these healthy baked oatmeal cups are super easy and with six delicious flavor options like orange cranberry and blueberry almond — the whole family can find a taste they crave.
2. Jazz it up in jars
Oatmeal is just one type of breakfast food that can put those mason jars to work for busy mornings. These protein-packed mason jar breakfast parfaits are tasty, easy to prep and will keep your family eating healthy all week long. With fresh fruit varieties and a crunch from granola or pecans, these jars are a complete breakfast you can take on the go.
3. Sample some sandwiches
There's nothing more mobile for a busy morning than sandwiches. And there are so many make-ahead breakfast recipes out there. We love these freezer breakfast sandwiches that include nutrient-packed eggs and are ready in just two minutes. If you love hot pockets, but crave a healthier option, these homemade breakfast hot pockets are better for you than the store-bought version. For something fun for the kids, you could also try these almond butter and banana open sandwiches — quick and easy to make. The banana is the bread, and you can make them in five minutes or less.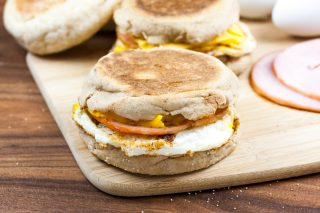 4. Build it bite-sized
If your household loves smaller portions, these energy-packed grab-and-go breakfast balls have ingredients that are versatile depending on your favorite flavors. Or — try these peanut butter cereal breakfast bites sweetened with honey and vanilla. Do the kids want something quick and bite-sized? What little one wouldn't be excited about cookies for breakfast? Here are six flavor options. You don't have to let them know they're healthy — lead with the delicious part.
5. Break out the bowls
Ok, cold cereal is always a quick and trusty standby for sure. But if you want something hot in a bowl that's not oatmeal, why not make these breakfast bowls ahead of time? The filling ingredients will help you power through your day. Plus, they're vegetarian, gluten-free and freezer-friendly.
6. Make it a muffin
If muffin tins sound easy, use them to prep and cook eggs ahead of time (they'll last in the fridge for up to four days in an airtight container). Or go mini by making these protein-packed yogurt bites that use healthier Greek yogurt, mixed berries and granola in mini muffin tins.
7. Roll it up
Just like sandwiches, rolled up goodness is easy to grab. Go Mexican with breakfast enchiladas you can prep ahead of time. These easy breakfast roll-ups allow you to sneak in super food spinach—loaded with tons of nutrients important for skin, hair, and bone health. Protein, iron, vitamins and minerals all in one roll? That's a great wrap to a busy morning.
8. Say yes to a smooth start
If drinking your breakfast sounds even easier than chewing, this strawberry banana yogurt smoothie is quick in a time crunch. Drink it in the car or even while waiting with the kids at the bus stop. If smoothies help your mornings run smoother, these make-ahead packs can help you prep for the whole week at once. And you can blend in healthy ingredients like fresh fruit, greens such as kale or spinach, chia or hemp seeds — both great protein sources. If you really want an added energy boost, throw in some protein powder.
9. Stick it on a stick
Just like cookies, kiddos love the idea of anything that comes in popsicle form. And that can happen at breakfast time too. Transition from summer to fall with these breakfast banana pops. Easy to make—you can throw in some dark chocolate (more nutrients than milk or white chocolate) mini chips along with granola for a sweet crunch. Get the kids in on the action with healthy add-ons from coconut shreds to raisins.
Whatever shortcuts work best for your crew, making breakfast a priority even during busy mornings is key. Studies have linked eating breakfast regularly to good health — including better memory and concentration, lower levels of "bad" LDL cholesterol and lower chances of getting diabetes, heart disease and being overweight. So make time, even just a minute or two to grab something quick, for the most important meal of the day.