The events of 2020 have led many people to reevaluate priorities and change plans. Some may have realized that with COVID-19 concerns, the safest place for their older loved one to live is in their own home. Don't be anxious about adding the home improvements necessary to better accommodate your elderly or aging loved ones. The amount of renovations really depends on the needs and health of your aging tenant.
According to the National Council on Aging (NCOA), our local emergency rooms treat an aging adult for a fall every 11 seconds. In fact, it's the most common injury for adults age 65 or older in the U.S. And while not all falls are fatal, they can highly impact the way an older adult lives for years after—sometimes forever.
The good news is—there are several things you can do to help avoid your loved one from falling into this statistic. The following are simple, universal adjustments designed to help turn your home into an older-adult-friendly, fall-free environment for family or friends. So, before you hunt down your hammer or head to the home improvement store, see if these ideas suit you, your house and, more importantly, the needs of the person moving in.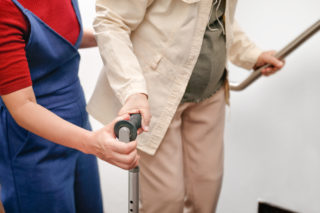 Know your conditions.
Before you work to improve your living conditions, understand the condition of your loved one. Are they physically feeble? Do they have trouble standing or walking on their own? Does he or she suffer from dementia or experience mental difficulties that require additional home enhancements? Once you understand the specific needs of your future tenant—you can plan accordingly with the proper updates. That's because physical needs call for different updates than mental ones. Sometimes, you'll find it best to update for both.
Begin in the bathroom.
For starters, put down a few non-slip bath mats to help older adults maintain traction in the shower and on your tile or linoleum floor. Non-slip mats are your first step to a fall-free environment. Installing more handles, rails and bars, particularly in the bathroom, may seem daunting. After all, there are several options to choose from, and as many places to install them. However, there are plenty of options available that don't require years of carpentry experience.
Adapt the bedroom.
A quick update that can make a world of difference is the use of contrasting colors in the bedroom. If the carpet is light, use dark bedding and dark curtains so your loved one can see a clear difference between items in the room. If the walls are dark, install lighter wall socket fixtures so the person in the room can find and use the light switch and fan switches. It may not be a bad idea to label the switches for a more deliberate experience. If you're updating to combat symptoms of dementia, remember to keep those curtains open during daylight hours to insinuate daytime, and close them at night to promote a healthy sleep cycle. Keep additional lights in the room; include an easy-to-access nightstand lamp and night-lights to illuminate a path to the bathroom, doorway or closet. The more lighting options, the better, to avoid bedroom falls.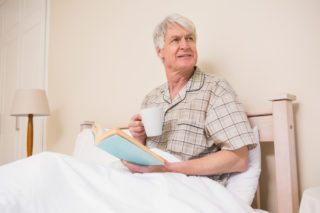 Update the kitchen.
Like the bedroom, set your table with contrasting-colored items to keep your guest from mistaking or misplacing surfaces—something as simple as sliding a plate off the table can cause a serious injury. Remember to put the most used items in easy-to-reach places to avoid your loved one from reaching or straining. And if food or drink is spilled, remember to clean it up immediately; a wet floor is a fall waiting to happen.
Work in progress.
Just like any home improvement project, you don't have to finish making your home fall-proof the same day you start. Try starting with the basics, and build from there. You may find that, as your loved one's condition changes or progresses, you'll have more to do around the house to keep them safe. Be sure to keep an eye on their behaviors and your home and use your best judgement to eliminate the possibility of accidents. It may be an ongoing work in progress, but there's nothing like aging adults being able to have a place to call home for as long as possible.