By Angie Chandler, NBC-HWC, NASM-CPT, FLT-vLE
Autumn in Michigan offers crisp outdoor air, gorgeous sunsets and daily color tours. Though COVID-19 has changed what this year's fall activities look like, there are still plenty of fun options to enjoy with your family.  From exhilarating nature hikes to relaxing by the fireplace, here are some ways to fully engage in the season with your wellbeing in mind.
Make seasonal chores fun.
Turn must-do maintenance into productive, cherished memories by putting a twist on seasonal chores. Raking leaves repeatedly feels like a chore, but a front yard labyrinth is an a-MAZE-ing idea to get the whole family involved.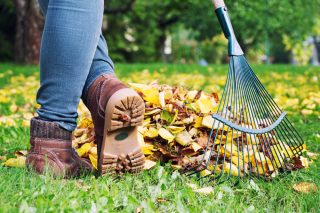 Become a collector.
Start a leaf collection by simply taking a walk. Once you've gathered just the right ones, press between two paper towels in a heavy book. Allow them to dry for a few days, then arrange them in a frame and create your autumn masterpiece.
Create a beautiful garden.
Plant your garden for now and install a surprise for later. Planting chrysanthemums or "hardy mums" this fall for instant color and beauty is easy to do and fairly inexpensive. It's a great way to extend floral aesthetics throughout the season. To add an extra element of beauty and surprise, strategically install flower bulbs underground in your flower beds. Shop for color, height and beauty now—for delayed gratification later. Don't forget to read the instructions and insert the bulb "roots down."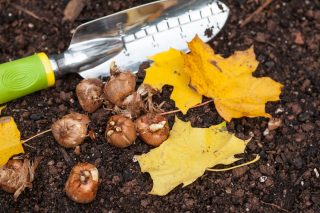 Try some family fitness.
Take a nature hike inviting all of your senses to come with you. Note the sights, smells, and sounds as you go. Take the fam along to add to the adventure—you could turn your time on the trail into a friendly game of I Spy or race to your destination.
Amp it up with pumpkins.
Choosing just the right pumpkin is an important part of the jack-o'-lantern carving tradition. Plus, the perfect pumpkin can also double as work out equipment. Use your gourd in your backyard gym for fitness. Try a pumpkin lunge twist, pumpkin squats or even pumpkin jacks.
Take fall family photos.
Many photographers are now doing socially distanced photo shoots. Create breathtaking family pics with a stunning natural backdrop—the golden sunlight. This also knocks an item off your holiday "to-do" list—photos for your holiday cards will be ready to go.
Visit a farmers market or orchard.
Near or far, take a daytrip this fall to experience family-owned treasures throughout our state. These outdoor activities allow you to safely social distance while still enjoying fall festivity. Farmers markets allow you to get out and enjoy the beauty of a Michigan autumn harvest. Plus, you can feel good about buying local at markets to boost our state's economy. Here's a robust list of orchards and markets throughout the mitten.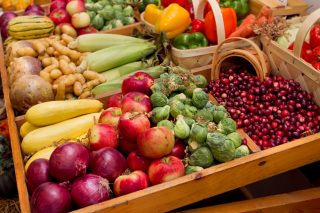 Cook with seasonal veggies.
While you're shopping, remember that "orange is the new green" this time of year. Put more orange (and yellow) on your plate for the powerful health-boosting antioxidant, beta carotene, which is abundant during autumn in Michigan. Roast your favorite fall veggies for a tasty side dish—such as sweet potatoes, butternut squash or carrots. Orange (and yellow) fruits and veggies are famous for containing beta-carotene—which is also thought to help protect against eye disease, and some forms of cancer. Try this spaghetti squash with pesto recipe.
Use all of your pumpkins.
Make some family time for pumpkin carving now that you've found the perfect pumpkins or if you have little ones, try a safer option like pumpkin painting or using markers. You can toast the pumpkin seeds for a low-calorie, high-nutritive snack. Pumpkin seeds are a natural source of vitamins, minerals and essential fatty acid. Here's a helpful how-to with some delicious seasoning combinations.
Get baking.
Bake an apple or pumpkin pie, or make homemade caramel apples or another type of dessert using fall fruits. Try one of these lighter options using apples, cranberries, pumpkin, pecans and more.
Build a fire.
With the cooler temperatures and shorter daylight hours, now is the time to curl up by the fire with a blanket and a warm cup of tea or hot apple cider. Turn off the TV and other devices, including your phone, and just enjoy the moment. Make time for that book you've been meaning to read. If you don't have a fireplace, try burning a few fall-scented candles: two relaxing scents include pumpkin or apple.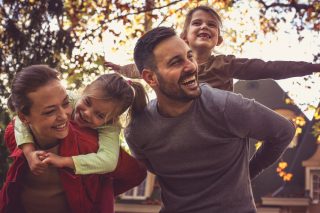 Get organized.
As you're getting ready to spend more time indoors with the colder weather, assess your space and how it's impacting your wellbeing. Here are some tips to build a better environment and eliminate energy-draining tolerations.
During your down time this fall, think of your senses and all you have to look forward to. Sounds include the crinkling and crunching of leaves underfoot or a crackling fireplace. Sights include stunning sunsets or fall leaves on a color tour. Think of the smells of fall—including cinnamon, apple pie, pumpkin pie, hot mulled cider, burning leaves and bonfires. And don't forget about the tastes of fall, like pumpkin, squash, apple and cinnamon. Be sure to enjoy all this season has to offer you—and your senses—in Pure Michigan.
About the Author: Angela Chandler, NBC-HWC, NASM-CPT, FLT-vLE is a health coach in Priority Health's Wellness Department and has been a ThinkHealth byline author for 5 years. She holds the 2017 National Board-certification for Health and Wellness Coaches and has worked as a wellcoaches®-certified Health and Wellness professional coach for 8 years.  Angie has been a National Academy of Sports Medicine-certified personal trainer for 25 years, and a Firstline Therapy®-lifestyle educator for 8 years. Her professional experiences continue to fuel her passion for writing health and wellness content. Prior to Priority Health, she worked at EHAC, The MAC, and CHCC in Grand Rapids. Angie partners with people in a positive, respectful, non-judgmental and playful way that brings out their best and generates inspiration.