Have you ever felt the burn after a night out on the dance floor? If so, it's because dancing demands a lot of energy. While most cardiac activities rely on rhythm (running, swimming, etc.), dancing has a "stop and go" type of movement. This allows your body to move in different directions—helping you burn a significant amount of calories.
Dancing is a great workout; both physically and mentally. Here are five health benefits to keep in mind if you're ready to turn up the music and get your feet, and entire body, moving to the beat.
Improves mood. Dancing can give you a "mental break," which often leads to a positive escape. Due to the feel-good endorphins released during a dance workout, most dancers experience an immediate boost in their mood.
Heart health. Many fitness activities have been known to improve heart health. However, dancing has been proven to be most appealing compared to other exercises. It's more pleasing to many because it's less about a difficult work out and more about feeling the music and moving to the beat. The low to high intensity variations are linked to a lower risk of cardiovascular disease.
Calorie burn. Put on your dancing shoes and have some fun all while burning calories. The number of calories burned varies based on a person's weight and type of dance. On average, a 150-pound person burns about 240 calories per hour. Not too bad for moving to the music.
Increase balance. If you're prone to falling, you may want to take dance lessons to improve your ability to catch yourself. Dancing teaches your body various techniques you're not used to learning elsewhere. This allows you to be more aware of your body and encourage proper landings if and/or when you fall.
Feel young. Due to conditions of the body, most cardiovascular activities have an age limit. Good news is that dancing has none! Feel your youngest while dancing it out. This can be proven while you're breaking it down on the dance floor at your friend's wedding. You'll be out there with all ages.
Next time you're thinking about choosing a new workout, try a dance class. Due to COVID-19 concerns and restrictions, many communities are offering outdoor dance classes such as in a park or parking lot with plenty of space for social distancing. While gyms and fitness centers are closed, try online classes or free YouTube video options. From hip hop to the Latin flare of Zumba or salsa dancing, line dancing and more—the internet offers music and dance options for all. Search online for local dance classes in your area—like swing, ballroom or ballet for adults. You'll love the benefits provided—mental and physical.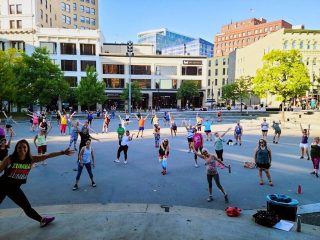 If you live in the Grand Rapids area, Priority Health has partnered with City of Grand Rapids to bring the community together for free fitness classes. This year, to help slow the spread of COVID-19, the classes are taking place outdoors at parks and public spaces across the city for the summer. From Zumba to Groove to dance options for kids, there's a fitness class for you. Learn more here.