By: Dominique Duba, RN
The end of the year is a time of family, reflection, and holiday cheer. Many families are ready to put up their holiday décor right after Thanksgiving! The beloved Elf-on-the-Shelf comes back to keep an eye on your kids, and family traditions are kicked off for the season.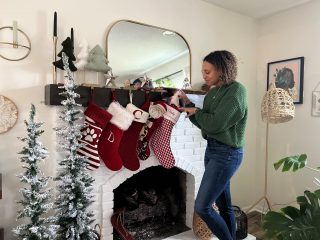 If you are active on social media, you may see that almost everyone you know is sharing all the picture-perfect details of their holidays, but in reality, it is not always as perfect as it may seem. There are a lot of expectations during the holidays that can put a strain on your mental health in a time that should be peaceful. The hustle and bustle of the holiday season can be stressful, and feelings of overwhelm and grief may resurface. At times, the expectations of having a picture-perfect holiday season overshadow the true meaning of the holidays – spending time with loved ones, reflecting on the past year and looking forward to new beginnings.  As we move into this season, it's important to reset on what's important to you, keeping your priorities in focus. Read more about my tips for enjoying the holidays!
Family time- Often during the holidays, you are expected to make the rounds to every family function. If you're married, there are typically 2 sets of families you need to plan to visit, outside of spending your holiday with just the family in your home. On top of that – your family may be in other states. Maybe it's time to start a tradition of traveling every other year instead? Take the burden of traveling off your shoulders this year and have a relaxing time at home! This season can also resurface feelings of grief for loved ones who are no longer with you.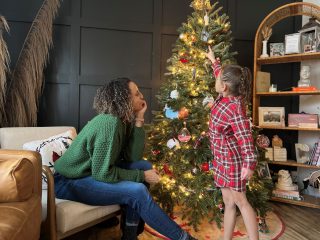 If you are grieving a loss you may notice those heavy feelings are amplified during the holiday. Please take time to focus on your feelings of grief and trauma during the holidays so that you aren't overwhelmed – this article has some good resources and strategies to help.
Staying busy- As the end of the year approaches, your to-do list never seems to get shorter: set-up your decorations, visit Santa with your kids, maybe attend some fun holiday events like petting reindeer or ice-skating, on top of planning holiday meals and get-togethers. You would think that the end of the year would be best enjoyed by winding down and relaxing, but most people are trying to live up to the expectation of cramming in as many holiday experiences as possible. In reality, it's very easy to quickly become burned out. To minimize stress, try saying no! It's OK if you don't want to do all of the activities. It's important to prioritize what is important to you in order to keep your focus on your mental health, your family, and enjoying the holiday season.
Spending money- The financial cost of the holidays may be one of the biggest stressors for most people. There are so many expectations when it comes to spending money during the holidays. You are very likely to have a long list of people you want to purchase a gift for, because that's just what we do, right? Lower the bar for yourself so that money isn't stressing you out this holiday season. Instead of another physical gift, start a new tradition! A few ideas to spark inspiration are below:
Give your nieces and nephews "movie tickets," to come over and have a movie night at your house. 

Hand out babysitting vouchers as gifts to the parents in your life that would love a free night of childcare! Make a fun craft with your kids involving handprints to gift grandparents. 

Volunteer as a family! This

article

talks about the benefits of volunteering- which can be an awesome experience to share with your children about the gift of giving back during the holidays. 
Feelings- The expectation of how to feel during the holidays seems apparent- just be happy right? In reality, sometimes the expectations of having that picture-perfect season overshadow the true meaning of the holidays. The holidays are supposed to be about spending time with loved ones, reflecting on the past year and looking forward to new beginnings. To get the most out of your holiday season, allow yourself to feel how you want and prioritize what you need to to be fulfilled. If you need to take time for yourself, do it. Even if that means skipping a holiday party! Practice self-awareness by resting when you need to. Use healthy strategies to reduce stress, including saying no when it will benefit your mental health.  This will help you experience the holidays the way YOU need to to be happy. Have a Happy Holiday season!
Instead of trying to have a picture-perfect holiday season, put your holiday priorities first, practice self-awareness by saying no, rest when you need to, and experiencing the holidays the way YOU need to be happy. To learn how Priority Health also puts people's priorities first, visit www.priorityhealth.com. 
About the Author: Dominique Duba is from the lifestyle blog And She Loved. She is a wife, mom, pediatric RN and blogger who loves sharing her life in Michigan.