Healthy, productive employees are a company's most valuable asset, but the rising cost of health care makes choosing the right health insurance challenging for businesses. For some employers, switching to a self-funded plan may be a good option to consider.
What is a self-funded health plan?
A self-funded (also known as employer funded or ASO) health plan is when your company owns and assumes the financial risk of providing benefits to their employees by paying claims as they are incurred, rather than paying a set monthly premium. Switching to a self-funded plan also means more benefit flexibility and less taxable premium.
How do self-funded insurance plans work?
Each month an amount of money is set aside based on the expected cost of employee health claims. Claims are sent to the health plan who administers your benefits, and they process the claims and pay them using the money that was set aside. These plans provide higher levels of flexibility but also increased financial risk for companies since they pay for claims as they occur rather than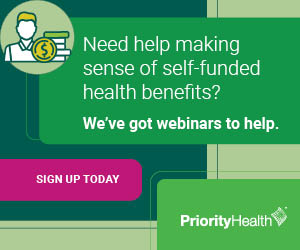 paying a consistent monthly premium. For example, if claims are higher one month, your company expenses for health coverage are also higher. And, same is true when claims are lower, if claims are low then health care expenses will also be low. Because of this variability, self-funded plans also usually include a form of stop-loss insurance.
Benefits of self-funded plans
Lower costs: Potentially, the monthly costs for a self-funded employer health plan will be lower since the company only pays for the claims from employees rather than a predetermined premium that includes a charge for the insurance carrier taking on the full risk.
However, there's still an amount due each month for fixed expenses like administrative fees and stop-loss insurance (also known as re-insurance) which provides protection for your company if claims from employees exceed a certain amount of money. Be sure you know what kind of fees you will have every month – and what you get in return.
With Priority Health Managed Benefits, Inc. (Priority Health), self-funded plans include an all-inclusive administrative fee, so you get resources and support in managing your health plan beyond what other carriers or Third-Party Administrators offer, without any hidden or surprise costs.
Less regulation: Self-funding is available with PPO, HMO and POS plans and can be combined with any legal plan design. In addition to the potential cost savings groups can experience by self-insuring, self-funded plans are not subject to state premium taxes and are exempt from many of the provisions of health care reform.
More flexibility: Self-funded plans often offer more opportunities for customization as they don't have to comply with state mandates in most situations. An employer can make the plan best fit the needs of the company and employees in terms of wellness programming, pharmacy coverage and more. Whether you plan to invest in better maternity or behavioral health benefits, self-funding lets you create a benefits program that reflects well on your company and attracts new talent.
With self-funded plans, Priority Health provides online access to monthly claims utilization data reports, so employers have a financial picture of their health care costs throughout the year.
Planning for the future: As with any business decision, it is crucial to evaluate what is working and what is not. Self-funding may be the first step to turning your company's significant investment in health benefits into a strategic foundation for the future as it gives you more control compared to other plan options.
To begin learning more about different funding options, contact your independent agent or Priority Health sales representative to see how self-funding can maximize the value of your health care investment. In the meantime, you can learn more about Priority Health's employer plan options and funding options by visiting our website.