Spring has sprung in Michigan and many are dreaming of warm beaches and blue waters. Now that COVID-19 vaccines are becoming more widely available, some Michigan residents are wanting to venture out for a spring break trip or planning summer travel after being cooped up for so long. No matter where you plan to vacation, we created some helpful tips for you as you make a packing list so you can make sure your upcoming trip is healthy and happy.
Pandemic precautions still in place.

Despite the increase in vaccinations, COVID-19 is still a serious concern in Michigan and across the U.S. Even if you've received one or both doses of the vaccine, or have antibodies, mask requirements and social distancing measures are still in place at airports and most locations across the U.S. (and in other countries if travel is allowed). Make sure to check what your airline, cruise line or final destination you're visiting require in terms of COVID-19 testing, masks, group gathering limits and other precautions. The CDC and the World Health Organization (WHO) are monitoring global travel and updating restrictions daily. See a list of destinations with travel notices here.
Wondering if you should cancel an upcoming trip or unsure if you should travel at all? These FAQs can help. You can also search the CDC map of travel alerts and recommendations by destination here. If you have to travel for business, these tips can help.
Adding travel size hand sanitizer, soap and sanitizing wipes/cleaning supplies to your packing list is a good idea, in case the areas you're traveling to are low or run out.
Remember these COVID-19 prevention tips as you travel:
Wash hands with soap and water frequently for at least 20 seconds. If soap and water are not readily available, use an alcohol-based hand sanitizer with at least 60% alcohol.
Clean and disinfect any surfaces you frequently touch.
Always cover your nose and mouth when sneezing or coughing with a tissue, and then throw the tissue away and wash your hands.
Stay home when you're feeling sick.
Avoid close contact of any kind with sick individuals.
Avoid touching your eyes, nose and mouth.
Wear a mask and practice social distancing of at least 6 feet apart.
A virtual piece of mind.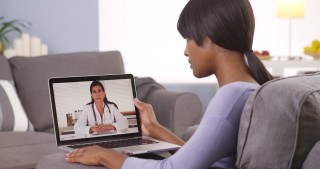 Did you know you can get some preventive care before you even open your suitcase to pack? It starts with being cautious of your health. Feeling the sniffles coming on right before takeoff? Virtual care can save you time and money before you leave for your trip, or if something may happen during your fun in the sun. Virtual care is a great for minor medical issues like a sore throat, fever or earache. Available 24 hours a day, seven days a week, a virtual visit connects you with a board-certified doctor at the tip of your fingers. Often, they're available through your family doctor or insurance plan. For example, Priority Health provides access to virtual care in the online member account. So you can have peace of mind before you board the plane or if you need care while you're traveling, you can make an appointment wherever you are from your phone, laptop or tablet.
Virtual visits are also cost effective, costing around $45 or less depending on your plan coverage, while a trip to the ER can cost hundreds. So, while it's relaxing to disconnect from tech during your travels, bring your device and charger just in case.
An extra assist.

You never want it to happen, but what if you or a family member were to get sick mid-vacation? Many health plans offer travel assistance to their members, which eliminates the need to purchase additional medical travel coverage. Your health insurance plan may offer travel services you may not even know about. At Priority Health, for example, members and their dependents have 24/7 access to Assist America® at no extra cost. It's available whenever members are more than 100 miles from home or in another country. Coverage includes:
Medical emergency services: Access to quality medical care including medical referrals, emergency medical evacuation, prescription assistance and more.
Travel emergency services: Help with lost luggage or documents, legal and interpreter referrals and care of minor children and pets when experiencing a travel emergency. Plus, pre-trip planning services including visa and immunization requirements, security and natural disaster alerts and more.
Multilingual, trained and emergency-dispatch certified assistance coordinators are available to help 24 hours a day, 365 days a year with one-touch access through the free app.
Pack smart and plan ahead.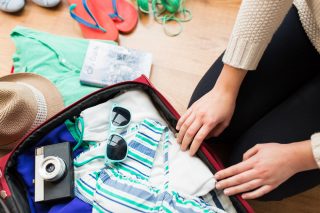 Nobody wants to run to the nearest pharmacy or convenience store in the middle of vacation fun for an over-the-counter medication or first aid supply. And if you're traveling to a more remote location, smaller stores can hike up the prices on these items based on simple supply and demand. Pack the medications and supplies you and your family tend to use most. Make a list of family members and their daily medications, include age-appropriate doses and a schedule with times of day. If you're currently taking a prescription medication, make sure you have enough to get you through your trip. And if you're flying and planning to pack your prescriptions in a carry-on, keep them in an easily accessible location in case a TSA agent needs to examine them. A clear plastic bag works great.
Don't forget to bring supplies to prevent illness and injury—sunscreen SPF 30 or greater and bug spray are key items to keep you safe and feeling good. Check expiration dates on containers before you pack. And include some antibacterial hand wipes or alcohol-based hand sanitizer containing at least 60% alcohol, perfect to combat against germs on planes, at airports and on road trips with several stops.
You should also include basic first aid supplies like a thermometer, bandages, ibuprofen or aspirin for kids and adults, and aloe for sunburn relief. Having these items on hand can save you money and keep you from scrambling if you need relief during your travels. The Center for Disease Control and Prevention has this helpful list to guide you as you pack smart for any trip.
Keep healthy habits, even on vacation.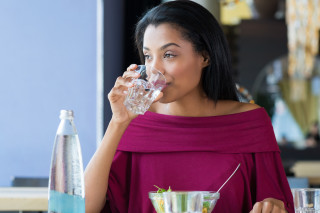 Staying healthy before your vacation is obviously important, but don't stop healthy habits you've been committed to all year once you've landed in paradise. Drinking plenty of fluids, eating healthy food and staying active on vacation can help you enjoy the trip even more.
A change of scenery is also good for your mental health, especially after the past year and all of the stress of the pandemic, so make sure to enjoy the time off and try to destress while away.
Following these simple steps and being prepared before you depart will help you to unwind and relax on your trip. Happy travels!