After a long Michigan winter, sunshine is hopefully here to stay. For many Michiganders, spring means warmer weather, which translates to enjoying the outdoors again. Check out some of the spring-worthy activities you can look forward to in the next couple of months.
1. Enjoy a picnic in the park.
Break out the baskets collecting dust in storage, and put them to good use. Grab a blanket, napkins, cups, a couple of healthy sandwiches and picnic your day away in a nearby favorite park, beach or even your own backyard.
2. Go for a hike with a friend.
Not only is hiking a powerful cardio workout, it's a great way to boost your overall wellbeing. Hiking, and general exercise, has been proven to decrease stress and anxiety. Being one with nature is a great time to enjoy the moment and realize the things that truly matter—even better when you grab a friend or family member to join you.
3. Ride a bike on a local trail.
It's the perfect time to pump up those tires and hit the pavement. No cars, no potholes—it's just you and the trail. Try these beautiful bike paths for a smooth, scenic ride: The Fred Meijer White Pine Trail in West Michigan or the Paint Creek Trail in Southeast Michigan.
4. Plant a garden.
Gardening is a fun activity for you and your family.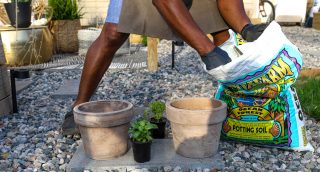 Show the kids where fruits and vegetables come from and how to nurture them from seed to stalk. Plus, there's no greater satisfaction than eating a meal with food grown from your own backyard. If you aren't able to grow a large garden, try a smaller container garden or an herb garden.
5. Open your windows and listen to the rain.
Many of us use relaxation apps for soothing nature noises—like waterfalls, babbling brooks and, of course, a light rain. But nothing beats the sound of a genuine, real-time spring rain. Now is the ultimate time to listen to the raindrops. Next time there's a rainstorm, crack your window and close your eyes. You'd be amazed at how relaxing it is—you may just end up falling asleep.
6. Take your run outdoors.
Lace up your shoes and hit the pavement outside. Not only will the fresh air do you some good, but you'll activate more muscles. How? You aren't running on a treadmill or track anymore, which is a straightforward motion. Running outside gets you to take more turns, hills, pass others on the sidewalk and more—all great ways to engage more muscles. If running is not your thing, try an outdoor Fitness Court. Priority Health has free Fitness Courts throughout Michigan that provide a space to work out for all skill levels.
7. Go on an evening walk with a companion.
Add a walk to your daily calendar after you eat dinner. Not only is this a great time to connect with your partner or other family members and friends, but walking after meals also benefits the digestion process.
8. Get a few friends together for a round of golf.
Spring is the beginning of golf season in Michigan. Nothing says 'hole in one' quite like your first tee time. Add more exercise to your game by ditching the cart and walking the course.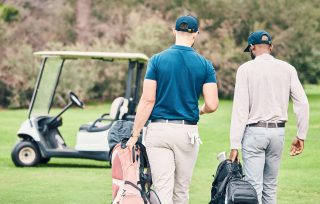 9. Sit outside to eat.
One of the many reasons why Michiganders love warm weather is sitting outside after so many months inside. You can't beat enjoying your favorite coffee or a delicious meal while getting some good old vitamin D.
Mark your calendars, break out the lighter jackets and add a couple of the activities to your to-do list—spring is finally here.