Under a new executive order from Governor Gretchen Whitmer, Michigan gyms and fitness centers are allowed to open during COVID-19, provided they adhere to new safety standards. New guidelines include obtaining name and contact information of all those who enter the building, limiting facility capacity to 25%, mandating facial coverings (face shields are not sufficient), and increasing equipment disinfection.
Many people are excited to get back to the gym and resume their fitness routines after months of at-home workouts. However, it's important to keep safety top of mind when visiting a fitness center to avoid spreading the virus and potentially getting sick, or making others sick. If you're ready to head in person to your gym, consider these tips for staying safe while you sweat it out.
1. Wear a mask.
Wearing a mask at all times is required in fitness centers under the new executive order. Though exercising while wearing a mask may not be the most comfortable thing in the world, it's necessary to keep everyone safe and to keep gyms open. Find a breathable, comfortable mask that you can stand to wear while working out. Many athleticwear companies like Under Armour and Athleta have even begun to sell masks specifically for exercising.
2. Maintain your distance.
Optimizing fitness centers to allow for social distancing during exercise is a requirement for gyms to reopen, however it never hurts to be mindful of this yourself. As much as possible, try to create extra space between you and the people around you. Consider waiting to use a machine or pick up a weight if it is located close to someone else, or keep a treadmill or two between you and another runner. This added mindfulness will help keep you and those around you safe as you work out.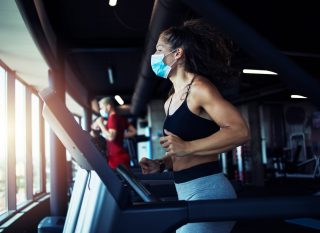 3. Have wipes and hand sanitizer ready.
Keep hand sanitizer and wipes nearby and use them as needed during your work out. Cleaning your hands after finishing a set or wiping down a weight before and after use are small actions that can go a long way. Try a travel size spray sanitizer for your gym bag to easily sanitize both your hands and equipment. After you've competed your work out, be sure to disinfect your hands, gym bag and other materials as soon as you leave. This will keep you from accidently bringing germs into your car or home, making sure the only thing leaving the gym with you is a hard day's work.
4. Bring your own materials.
Certain equipment can be hard to disinfect, so consider bringing your own resistance bands, yoga mat, towel or other materials if you have them to limit the amount of equipment you have to touch. Bringing a reusable water bottle from home is also a smart move to avoid needing to touch the fitness center's water fountains.
5. Go when it isn't busy.
If possible with your schedule, try to avoid traditionally busy gym times like after work (around 5 to 6 p.m.) or during lunch (11 a.m. to 1 p.m.). These times are likely to have more people present and heading to the gym earlier in the morning or later in the evening may allow you to avoid crowds and complete your work out more quickly and safely.
6. Avoid indoor workout classes.
Fitness classes, especially when they are indoors, can make it difficult to distance yourself from others. Choose outdoor or virtual work out classes when possible. If you do decide to attend an indoor fitness class, try and choose something that allows you to stay in one space, like yoga or spin. This way you can be sure to maintain at least a six-foot distance throughout the entire class.
7. Call your gym to find out what their new procedures are.
While every fitness center will be requiring masks and taking down contact information, other safety protocols may vary. Some gyms no longer have locker rooms or showers open, and some may require a temperature check before letting you in the building. Call ahead to learn what your fitness center is doing so you're prepared for the new gym experience.
No matter what your COVID-19 comfort level is, there are options to get you up and moving, from home workouts and virtual fitness classes to outdoor classes and gyms with extra safety precautions. Be sure to make time to move your body and experience the stress relieving power of exercise, while still safely protecting yourself and others from COVID-19.