Though often thought of as a "Hallmark Holiday," Sweetest Day can be a fun opportunity to whip up some delicious desserts with (or for!) loved ones. Check out these five sweet, healthy recipes for inspiration.
1. Yogurt Bark.
This super simple and delicious yogurt bark recipe is the perfect frozen treat to follow a meal or as a late-night snack. Plus, it includes a solid serving of protein! Simply spread some Greek yogurt on parchment paper, add your preferred toppings, and freeze! You can get creative with toppings to make the recipe your own; fruit, chocolate chips, sprinkles, caramel sauce… the possibilities are endless.
2. Pan Fried Cinnamon Bananas.
Turn up the heat with these pan-fried bananas. This dish is simple and delicious, combining smooth bananas with a sweet cinnamon and sugar glaze that's sure to give bananas foster a run for its money. Just chop some bananas, add a little olive oil to the pan, coat the bananas in cinnamon and sugar, and in 15 minutes or less you can enjoy this sweet treat.
3. Pumpkin Oatmeal Cookies.
Take advantage of fall flavors with this pumpkin-spiced cookie recipe. This fun dessert adds a seasonal spin to a classic cookie, while making healthy substitutes like oat flour and almond butter, to lighten up the traditional recipe without sacrificing any of the flavor. Plus, you get all the health benefits of whole grain oats and pumpkin!
4. Crispy Peanut Butter Balls.
All it takes is four ingredients to create this crowd-pleasing snack. Whip together crispy rice cereal, peanut butter and maple syrup to create the filling, and then roll in melted chocolate chips to complete the dish! The peanut butter can be easily substituted for other nut or seed butters to accommodate dietary restrictions.
5. Apple Nachos.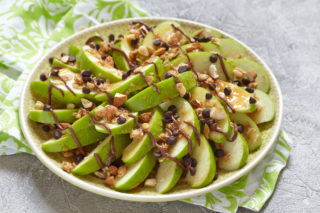 Add a sweet twist to your traditional nacho recipe with this seasonal fruity version! Cut up your favorite type of apple and drizzle with your choice of sauces; chocolate, peanut butter and caramel are all fan favorites. Next, add your preferred toppings; this could include chocolate chips, sprinkles, nuts and more. Three simple steps and you're ready to enjoy this perfect autumn dessert!
No matter how you celebrate, be sure be extra sweet to your loved ones today. Looking for more recipes? You can find more delicious, healthy dishes here.