Beginning to live healthier doesn't have to involve ambitious resolutions, restrictive diets or intense workout regimens. Sometimes, the smallest changes can be the most sustainable and have the greatest impact on your overall well-being.
Check out these 10 ideas for small shifts to make in your daily life to promote mental and physical wellness.
1. Add one more serving of fruit or veggies to each meal.
Vowing to "eat healthier" can often feel like a lofty resolution that's hard to stick to since it could mean so many different things. Break down the commitment into the smaller, quantifiable task of adding just one serving of fruit or vegetables to each meal.
Add a little fruit to your breakfast spread and an extra vegetable to your dinner menu, or consider swapping out your normal afternoon snack for a fruit-packed smoothie. As an extra bonus, try to add a variety of colors to your fruit and veggie choices and see how great eating the rainbow can feel.
2. Commit to one more glass of water a day.
Another vague resolution that can be difficult to stick to is "drinking more water every day." Proper water intake can help improve sleep, digestion, and more, but knowing the right amount of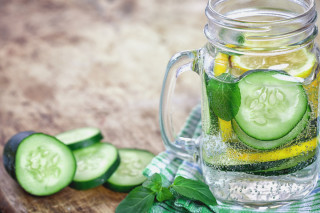 water to drink can be tricky. Start by adding an extra glass intentionally into your day. Try beginning your day with a cup of water or adding one in before eating lunch or dinner. If you need some fun ways to make water more interesting, try some of these healthy infusing combos.
3. Liven up your coffee time.
Missing catching up with coworkers or friends over your morning cup of coffee? Add a new activity to your morning routine to help fill the void. Start a new podcast and listen while you sip, or schedule a call or video chat with a friend or colleague and catch up as you enjoy your morning beverage. This added bit of joy will help start your day on a brighter note.
4. Limit your screen time.
Though world events and the hustle and bustle of work and school make it hard for us to stay away from our devices, limiting your leisure screen time can have positive impacts on your mental health. Start small, such as having each family member place their phones in another room during dinner (perfect time to charge them!) so everyone can focus on enjoying the meal and each other—screen-free.
5. Take small breaks to meditate.
No matter how busy you may be, five minutes of calm to focus on something other than your to-do list can have a big impact on your mental health. To help manage stress and focus on self-care, give meditation a try.
If you're not sure how to get started, try Headspace, Breathe2Relax or another app that gives you guided meditation and breathing exercises.
6. Stretch it out.
If you spend much of the day sitting, try to take time to stretch throughout the day. This can help you avoid pain and stiffness and clear your head. Try to find pockets throughout the
day such as in between meetings and assignments or before or after lunch to take a break and stretch your body. Your muscles will thank you for it.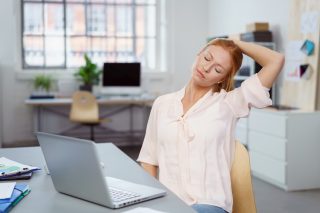 7. Dance it out.
Just finish a long day? Wrap up a big project? Make it through the end of the week? Celebrate the small wins with a mini dance party. Not only will the music likely lift your spirits, but moving your body will have you feeling better as well.
Grab your family members or roommates and have them join in the fun. Create a dance party playlist and share your favorite tunes with friends to inspire others to get moving.
8. Walk it out.
Adding more movement into your routine can have great effects on your physical and mental health—walking just 20 minutes per day is shown to significantly impact your well-being. If you don't have time for a daily walk, make it a weekly commitment—hold yourself accountable by using it as a weekly appointment to call a loved one and catch up, or enlist a friend or family member to join you.
9. Save weekends for self-care.
On one of your days off during the week—whether the weekend or whenever you have a break from work or school—take a little time for some more indulgent self-care activities. Maybe you want to enjoy a spa treatment like a massage or pedicure, or treat yourself to a specialty coffee drink or carryout from a favorite lunch spot. These little indulgences will help keep you motivated all week, while also giving you something to look forward to.
10. Identify one thing to be grateful for each day.
Shifting your mindset to find a positive event on even the worst of days can help you better focus in on your positive emotions and let go of negative ones. Record the things you're grateful for in a journal or on scraps of paper to be placed in a jar and reflect on them on a monthly or yearly basis.
These shifts, small though they may be, can have a significant effect on how we think and feel. Start taking small steps towards improving your health today.