It's January in Michigan, which puts us smack dab in the middle of soup season. After all, there's nothing like a hot and hearty bowl of brothy, savory soup to warm us Michigander's up after braving the cold—and sometimes snowy—winter weather. There may not be a heartier soup than beef vegetable, but for many of us, red meat has taken a back seat to promote better health. Not to worry; there are plenty of wholesome soups (like, hundreds!) that are beef-free. This year, try taking your soup game beyond your basic beef. Here are some ideas.
Use more Michigan squash.
When it comes to Michigan fall and winter, no veggie is more in fashion than winter squash. You can do so much with winter squash. Whether it's fennel, apple, curry or coconut, all it takes is another fruit or vegetable to turn winter squash into a wonderful cup (or bowl) of delicious soup. Have a slow cooker? Give this butternut squash soup a go and impress an entire crowd of family, friends or coworkers.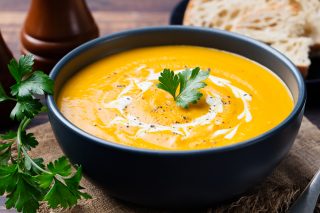 Go green.
It's gray and cloudy this time of year, and it seems we won't see green grass for months, but the same doesn't go for your soup bowl. Whether it's a puree or the normal noodle approach, put something green in your soup. Soup stocks with avocado, broccoli, kale, spinach or fennel add a little green to your gloomy winter landscape—and add healthy nutrients to your favorite recipe. This sweet pea avocado soup should help you "think spring" as you please your taste buds.
Pack in alternative protein.
Many may think beef soups pack the most protein. While beef is a good source of high-quality protein, there are several alternatives that offer as much and, in many cases, more protein than red meat. For instance, chicken posole, a signature Mexican soup, can boast as much as 39 grams of protein per bowl. This dilled salmon and asparagus soup delivers 24 grams of protein per serving, and is also a great source of calcium and vitamin A. Several vegetable soups are a great source of protein, too, like white bean and kale or chard and chickpea soups.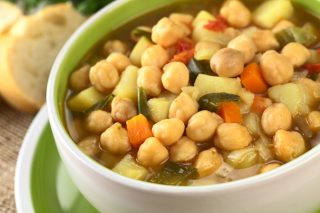 This winter, give your cholesterol a break by breaking away from traditional beef-based soups. If you've resolved to give up red meat in 2020, remember, the list of soups sans beef goes on. We hope these ideas inspire you to try something new and add a little variety to your soup de jour.