By: Rebecca Mason, RDN
Tacos will always hold a special place in my heart. My first date with my husband was over a plate of tacos, my kids devour them on taco night and best of all—they're family-friendly, easy to make and downright delicious. This National Taco Day, get creative with this beloved food and try one of these four fun variations that are delicious and nutritious:
1. Roasted broccoli and chickpea tacos.
Think you can't have tacos without meat? Think again! One serving of these awesome, nutrient-packed tacos boasts 9 grams of fiber, 11 grams of protein and is loaded with vitamins C, B6, folate and manganese. Try my friend's highly-requested, filling and delicious take on tacos tonight.
Roasted Broccoli and Chickpea Tacos
Serving size: 2 tacos
Serves 4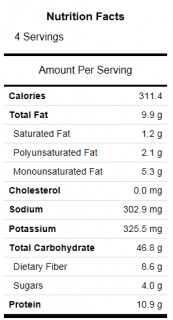 Ingredients
For the tacos:
One head of broccoli, chopped
One 15 oz can of chickpeas, drained and rinsed
1 tbsp olive oil
1 tsp paprika
½ tsp red pepper flakes
1 tsp cumin
Salt and pepper, to taste
Soft corn tortillas
For the topping:
½ cup plain nonfat Greek yogurt
1 tbsp olive
2 cloves garlic, minced
Directions
Heat oven to 400 degrees. Combine broccoli and chickpeas on a sheet pan. Drizzle with olive oil and sprinkle with salt, pepper and red pepper flakes. Place in the oven and roast for approximately 30 minutes. Meanwhile, whisk together garlic, Greek yogurt and 1 tablespoon olive oil and let chill. Once the chickpeas are slightly crispy sprinkle broccoli and chickpeas with paprika and cumin. Spoon chickpeas and broccoli into corn tortillas. Drizzle the sauce mixture over top and finish with additional toppings as desired.
2. Chili-rubbed steak tacos.
For many of us, the word taco conjures up images of crispy corn shells filled with seasoned ground beef, cheddar cheese, diced tomatoes and shredded iceberg lettuce. While the classic taco is a fan-favorite, I highly encourage you to do something unexpected and wow your crowd with these Chili-Rubbed Steak Tacos. Nutrition perk: Swapping out iceberg for cabbage boosts antioxidants, and the avocados are a great source of monounsaturated fatty acids, which may help reduce risk factors for heart disease.
3. Blackened fish tacos.
Many fish tacos feature fried fish, but you won't regret swapping out the fryer for a blend of spices instead. These Blackened Fish Tacos are flavorful and packed with numerous nutritional benefits. Fish contains omega-3 fatty acids, which are associated with a lower risk of heart disease and reduced risk of brain disorders. These tacos are great for your health and tasty too—a total win-win.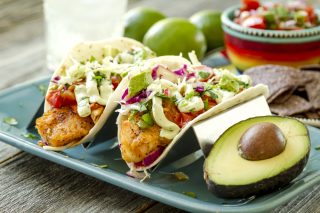 4. Dessert tacos.
Did someone say dessert? Talk about an unexpected spin on traditional tacos. These Easy Summer Dessert Tacos are not only delicious; they're a great way to play in the kitchen. Make a batch of "taco shells," let everyone fill them up with a variety of seasonal fruit, nuts or a small scoop of ice cream and enjoy the quality time with family and friends.
Spice things up—literally and figuratively—this National Taco Day and any week for Taco Tuesday with a meal the whole family will love.
About the Author: Rebecca Mason, RDN, is a registered dietitian/nutritionist. She is passionate about helping families and individuals improve their health through nutrition education and nutritious food access. Rebecca is certified in adult weight management, and has a background in both clinical nutrition and wellness programming.