By: Lisa McDowell, MS, RD, CSSD
Colder weather, a more robust travel schedule and close quarters all present unique challenges for keeping our team healthy. The fast pace of shift changes results in sharing water bottles. Teammates also are in close proximity in the locker room, weight room, on the plane and even sharing rides to practice at Joe Louis Arena. When one player has a cold or flu, the rest of the team is vulnerable.
This unrelenting extra attention to the smallest details can result in a game-winning difference.
The rigors of being a professional hockey player create extreme physical demands on the body's immune systems. It is no coincidence that highly contagious diseases like the flu and mumps continue to threaten the health of professional hockey players. Intense physical activity stresses the immune system. Muscle damage results in the formation of free radicals, which are unpaired electrons in the body. Antioxidants help eliminate the free radicals, therefore great nutrition is essential for recovery, as well as disease prevention.
While I am not a hockey player—and the guys tease me for knowing little about the game—I do my best to apply scientific evidence to our nutrition program. This unrelenting extra attention to the smallest details can result in a game-winning difference. Improved performance can visibly be seen on the ice when a player out-skates his competitor to the puck. Having more energy to fuel a sprint often comes down to superior fitness, energy availability, technique, nutrition/hydration and recovery. Survival of the fittest usually results in victory.
Some of the small details include paying close attention to the foods we eat. Every meal and snack is an opportunity to build a stronger body and immune system. The players recognize they are eating for their team, not just for themselves. Part of my job involves collaborating with Chef John Borso to select ingredients and create menus. Optimizing key nutrients helps our players get the antioxidants they need to repair the damage to their bodies caused by their sport. The nutrients are often found in deeply pigmented fruits, vegetables, spices, herbs and grains. What often goes unnoticed are the food items missing from our training table. When selecting products, we try our best to avoid food that contains artificial colors, artificial flavors, thickeners (like carrageenan), pesticides, hormones, antibiotics, trans-fatty acids, sugar, alcohols, genetically-modified food and anything you can't pronounce or wouldn't find in your own pantry.

The players tell us they feel their best when they eat food that was once alive. If something is processed and comes from a box, we try to eliminate that ingredient. Using whole foods that provide a rich source of nutrients helps to keep our team healthy and strong.  When the outbreak of mumps spread through the NHL, our Red Wings medical team acted swiftly to protect our players by offering booster shots, as well as food items that help build healthy immune systems. One such product is a drinkable probiotic by Siggi's called Filmjolk, which contains a billion live active cultures to help support the healthy bacteria in the body. Probiotics and prebiotics should be part of your daily dietary intake. Siggi's is a Swedish product well known to many of our players from Sweden. In Siggi's yogurt, you will find 15 grams of protein and only 4 grams of natural sugar in 80 calories. The yogurt is made from the milk from cows that were not treated with hormones and antibiotics.
Fermented foods such as kimchi, sauerkraut, kefir and miso soup also are great sources of probiotics. Make sure you look for the words "live, active cultures" on the label to confirm these healthy bacteria haven't been killed off in the manufacturing process.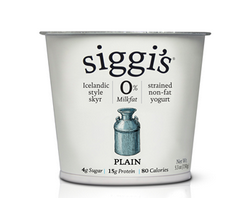 With what appears to be an unprecedented flu season, we can all benefit from strengthening our immune systems! Enjoy a daily serving of your favorite probiotic/fermented food.
Again, small details lead to great health. You will not find artificial sweeteners or colors on our menus. You can frequently hear me joking with our team about not sweating red dye #40 or yellow #5! Why not fuel with the purest whole foods around? Treat yourself well in 2015 and read food labels. The best chance to optimize how great you feel begins with eating real food – with nothing harmful to get in the way!
About the Author: Lisa McDowell, MS, RD, CSSD is a board certified specialist in sports dietetics and the team dietitian for the Detroit Red Wings. She has worked with professional, collegiate, and Olympic athletes since 1996. Most recently, Lisa worked with Team USA athletes at the 2012 Summer Olympic Games in London.