By: Lisa McDowell, MS, RD, CSSD
As a registered dietitian, I read every research study linking nutrition with anticancer properties to help fuel his fight against aggressive cancer.  After surgery, chemo and radiation, the next step was to prevent recurrence.  With his cancer in remission, we celebrated his great fortune by earning the coveted Mickey medal as we crossed the finished line together with tremendous gratitude at the Disney marathon.  He has now been cancer-free for twelve years, and continues to fuel his body with fresh, colorful, nutrient-dense foods. The fascinating point of this story is the revelation that the same food that helps prevent disease also fuels elite athletes.
I started designing menus for Olympic athletes during the Atlanta games in 1996, where my experience with the benefits of micro and macronutrient metabolism paid off. When medals are won by a difference of inches or milliseconds, athletes are highly motivated to optimize meal plans with functional ingredients. The same is true for professional athletes. I am currently the sports nutritionist for the Detroit Red Wings.
The players say they feel best when they have at least ten different fruits and vegetables each day from a range of colors-, red, orange, yellow, purple, green, white, brown and black.
Feeding elite hockey players is challenging because of the unique characteristics of the sport. For example, hockey players must have immense aerobic fitness, lightning speed, coordination, power, and resiliency – all while being pushed, checked, and slashed on skates – in order to be successful. They also play 82 regular-season games that involve extensive travel and challenges for uninterrupted sleep.
I enjoy collaborating with the medical training staff to help optimize nutrition and encourage proper recovery. I never want to hear Coach Babcock say that the players did not have enough energy.  I take that to heart and look at the food we had previously provided and try to do better the next time. This means working with the chef to plan all the meals and snacks served at Joe Louis Arena. It also includes fine-tuning the menus served on the airplane, at training camp and at away-game venues.
Our team is very receptive to eating well and they are eager to try new recipes with functional ingredients. The players are incredibly fit and perform at their peak when they pay attention to little details. For example, each player knows they need to eat the rainbow. This means at the end of the day, they can reflect on what they ate and relate their intake with performance.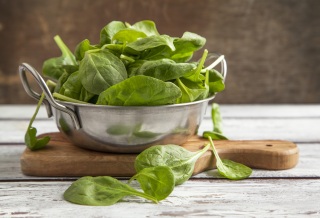 The players say they feel best when they have at least ten different fruits and vegetables each day from a range of colors-, red, orange, yellow, purple, green, white, brown and black. For example, we like to serve watermelon after a game because it has the amino acid L-citrulline that helps with muscle repair. A favorite 'green' food is spinach which contains vitamins, fiber, and phytochemicals, as well as nitric oxide which helps dilate the arteries for proper blood flow. In fact, the benefits of nitric oxide is becoming so popular, you may start to see other nitric-oxide rich options in the store like beetroot juice.
As the Manager of Clinical Nutrition at St. Joseph Mercy Health System in Ann Arbor, I consider it my job to promote the healing benefits from whole, fresh foods. So, I helped create a 25-acre organic farm on our campus. We are the first hospital in the United States to have an organic farm on the property and employ a full-time farmer. We have three hoop houses which allow us to grow produce year-round.
In addition to serving our hospital patients and employees this delicious food, the Detroit Red Wings have enjoyed spinach, garlic, herbs, tomatoes, Swiss chard, carrots and even kale from The Farm at St. Joe's. The players have even created menus using the produce from The Farm during cooking classes.
You can view the video of our "Eat the Rainbow" cooking class (and no, Skittles are not the rainbow) held at prospect camp below.
About the Author: Lisa McDowell, MS, RD, CSSD is a board certified specialist in sports dietetics and the team dietitian for the Detroit Red Wings. She has worked with professional, collegiate, and Olympic athletes since 1996. Most recently, Lisa worked with Team USA athletes at the 2012 Summer Olympic Games in London.